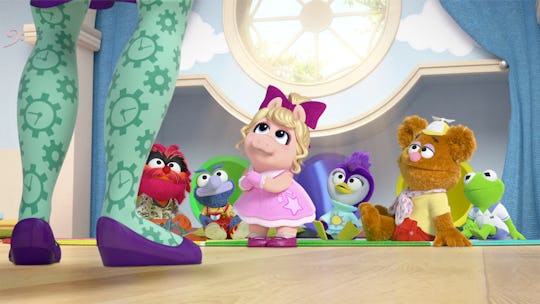 Disney Junior
Jenny Slate Talks Finding Your Own Voice This 'Muppet Babies' Clip — EXCLUSIVE
You'll hear at least one recognizable voice on Disney Junior's Muppet Babies, though you might be hearing it in a new way. Jenny Slate voices Miss Nanny, the caretaker of the titular infant muppets, and she's expanding her voiceover horizons with the role. In this exclusive featurette clip for Muppet Babies, Jenny Slate is doing her very best to excel at something she's not quite an expert at. And that's perfectly on theme for the show.
Slate explains as much in the clip. Intercut with shots of her in the recording booth, putting on her headphones and preparing to give voice to Miss Nanny, Slate says, "I actually think that the way that I sing and the way that I feel about it is very in line with what this show is, because I'm not a perfect singer but I really give it my all and I really, really love it."
Slate is shown at the microphone alongside actual scenes from the show, illustrating how the music goes from initial recording to finished product. Miss Nanny, merely a pair of legs in pretty amazing pig-printed teal tights, helps out the muppets in her charge via song, giving them advice in her own distinct way.
In the song, Nanny encourages Kermit to tell stories however he likes, pointing out that he can change them whenever he wants to, if he wants to. Meanwhile, in the interview segment Slate elaborates on the idea of enjoying something and doing it to the best of your abilities, even if you're not perfect. "And that's a lot of, you know, what these muppets learn," she says, laughing a little. "It's like, you're not supposed to get everything perfect. You're just supposed to really, really, really try and put your heart and spirit into it."
Slate isn't a professional singer, but she doesn't have to be. You can do something (and have fun doing it) without feeling the pressure to not make a single mistake. Mistakes are a fact of life, and a necessary part of getting better at something. But as long as you're making an effort, as well as enjoying that effort, you're fine.
You can also invent your own way of doing things that's unique to you. "Just because you've seen something done one way doesn't mean you have to replicate it," Slate says. "In fact, you could do it your own way. And it's really wonderful to make things up as you go along."
As punctuation to that statement, Slate-as-Nanny sings, "Every time you tell [a story], you can shake it up however you like!" That spirit of spontaneity and sheer fun is imbued in Slate's performance, but also has relevance in the episode where the song appears.
In "Kermit's Big Show," Kermit and the other muppets have to figure out how to work together when there are all kinds of conflicting ideas in the mix. By relaxing the rules and keeping it creative, they can stay true to their own voices — whatever those voices are.