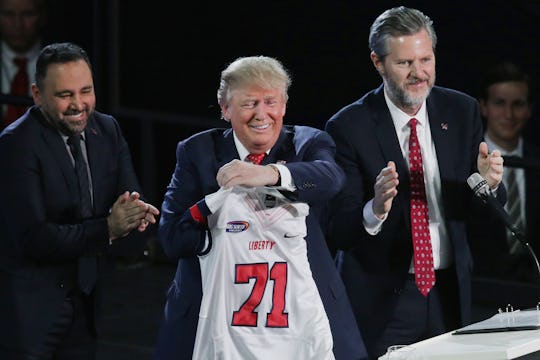 Chip Somodevilla/Getty Images
Jerry Falwell Jr. Endorses Trump & No One Is Surprised
Liberty University president Jerry Falwell Jr. endorsed Donald Trump on Tuesday — and it's the second evangelical boost the Republican front-runner has received in the past couple of weeks. Stating that it was "truly an honor" to receive the endorsement this week, Trump added that Falwell was "not only ... a high-quality person, with a wonderful family", but also a "very good friend", according to The Washington Post. The endorsement shouldn't come as a surprise to anyone who already knew of the friendship between the two, but the public backing may help Trump pull ahead just before the crucial Iowa caucuses next week.
Falwell, the son of late televangelist Jerry Falwell, is the president of the largest Christian university in the world. More importantly, the evangelical voting bloc represents a large portion of voters in Iowa. Falwell's endorsement of Trump comes less than a week before the first caucus, and — in a well-timed maneuver —right on the heels of Sarah Palin's endorsement (as wacky and well-vined as that may have been, Palin's name is apparently golden among Iowa evangelicals, according to The New York Times). The combination of two well-known and influential evangelicals might give Trump the leg-up that he needs, since recent polls show him neck-on-neck with Texas' Sen. Ted Cruz.
The billionaire buddies have been tight for a while, the former senior VP of the university, Johnnie Moore, told the Daily Beast this week. In 2012, Trump gave a convocation speech at Liberty University, and since then, the two have met at the Trump Towers in New York, been seen at events together, and have generally stayed chummy with regular contact. The endorsement also comes on the heels of Falwell's odd introduction to Trump's convocation speech at Liberty University last week.
Falwell started off his Jan. 18 address by comparing the head of the Trump empire to his televangelist father. "I think Trump reminds me so much of my father," he said, according to The Christian Post.
Strangely enough, Falwell then compared Trump to Martin Luther King Jr. (I have a feeling MLK would roll over in his grave, several times, if he knew.) saying, "Dr. Bernice King, the daughter of Rev. Martin Luther King Jr. spoke in this convocation a few years ago, [and] she told me of how her father was loving and generous in his personal relationships with others but he spoke the truth no matter how unpopular it was." Because, yeah, totally — MLK totally would have been on board with calling Mexicans rapists and deporting all illegal immigrants.
For now, voters are left wondering what a candidate like Trump brings to the evangelical electorate. Like everyone else, I'm just taking it in stride as part of the voting mania leading up to the Iowa caucuses, and hoping other people see the humor in it, too. At least no one can say they were surprised.
Images: Chip Somodevilla/Getty Images