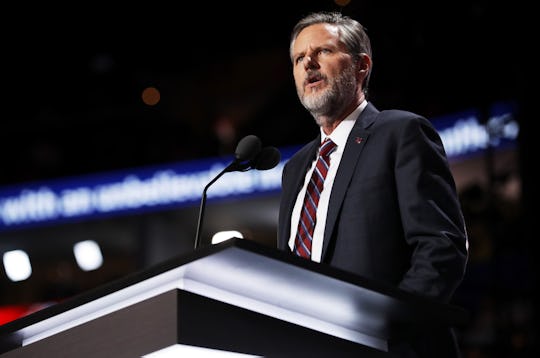 Chip Somodevilla/Getty Images News/Getty Images
Jerry Falwell Jr's "Osama, Obama, Yo Mama" Comment Pushed Twitter Into Freak Out Mode
On Thursday night, Jerry Falwell Jr. took the stage for opening remarks at the Republican National Convention in Cleveland, Ohio. While praising GOP nominee Donald Trump, Falwell also made it a point to address the "three greatest threats to America: Osama, Obama, and yo mama!" Jerry Falwell Jr.'s comment has ignited a flurry of rightful outrage on Twitter. I'm pretty sure that me and the millions of folks watching the RNC live on TV, Facebook, Twitter, and elsewhere all did a collective spit-take as soon as Falwell said those words.
Falwell's comments don't seem to stray too far from a GOP convention that's been described as racist and controversial by many observers — from conservative commentator Laura Ingraham's Nazi-esque salute to an Illinois delegate being booted from the convention for her racist Facebook post calling on snipers to shoot black people — but with far less appropriate language.
And yet, it's almost unfathomable to comprehend that in 2016 someone would actually say something this offensive and disrespectful as what Falwell said on the RNC stage Thursday night. Falwell's comment ignited a swift and furious firestorm by hundreds of people on Twitter calling him out for his tasteless attempt at humor.
Voters and viewers from both sides of the aisle were equally as taken aback by Falwell's "Osama, Obama, and yo mama" comment as they took their shock and disappointment to Twitter.
As racist as Falwell's comment started out, he rounded it out with a nice misogynistic jab at Hillary and Chelsea Clinton — the "yo mama" bit was directed squarely at the former U.S. Secretary of State and her daughter.
Republicans had a unique opportunity to turn the tide of resentment and anger that's been turned toward the Grand Old Party with this year's RNC. Instead, they've paraded one frustratingly tone-deaf speaker after another.
While some will say that Falwell represents himself at the RNC Thursday night, it's important to remember that Falwell was specifically selected by the RNC to speak based on his role as president at Liberty University and prominence in the conservative Christian voter base. Falwell certainly didn't shy away from using his platform at the RNC to make an unbelievably racist remark about the sitting President of the United States.
Ultimately when the wagons pull out of Cleveland and the dust settles, the Republican Party — and its presidential nominee — need to be held accountable for what their speakers, surrogates, and spokespeople say to represent their party.