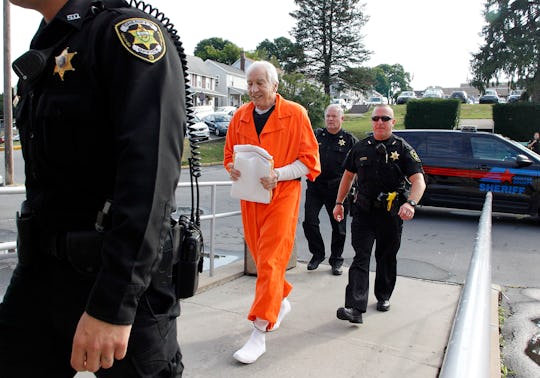 Justin K. Aller/Getty Images News/Getty Images
Jerry Sandusky's Son Jeffrey Has Been Arrested
The saga of the Sandusky family continued on Monday when Jerry Sandusky's son, Jeffrey, was arrested on child sexual abuse allegations. Jeffrey, the 41-year old adopted son of the former Penn State University football coach who was convicted of child molestation in 2012, was charged with 14 counts, including criminal solicitation and corruption of minors. Romper's request for comment from Sandusky's attorney, Lance Marshall, was not immediately returned.
Sandusky, one of six adopted children, was living and dating a woman for five years when he allegedly asked her son for nude pictures and sent inappropriate text messages in March 2016, according to court documents. He allegedly told the child that it was OK to send him pictures since he "studied medicine." Sandusky also allegedly told the minor to not tell anyone. The child went to his biological father to report the text messages. The biological father allegedly confronted Sandusky who allegedly told him, "I can't even say anything except I'm sorry," according to Onward State, a local State College, Pennsylvania news outlet.
District Attorney Stacy Parks Miller said in a statement, "All children have a right to feel safe. We will prosecute this case as aggressively as we do all child abuse cases."
When his father, Jerry Sandusky, was being prosecuted for 45 counts of child sex abuse, Jeffrey Sandusky often attended court with his mother. In a 2014 interview with Today, he defended his father and told Matt Lauer, "Hopefully the interview puts out our side, or some of the things we feel." He added, "Knowing my father is innocent, and some of the things that were brought up, hopefully they're taken and actually people will listen to [it] and take it to heart."
Jerry Sandusky is currently serving up to 30 years in prison after being convicted of abusing eight boys for over a decade while working as Penn State's defensive coordinator, though there were reportedly up to 30 victims. The university has paid out settlements to those victims, totaling $93 million.
It also paid out $7 million in a defamation suit to Mike McQueary, the former assistant football who reported to head coach Joe Paterno that he had witnessed Sandusky abusing a boy in the shower. Former FBI Director Louis Freeh said in 2013 after conducting an investigation that Penn State administrators showed "total and consistent disregard" for Sandusky's victims over the years.
Jeffrey Sandusky was jailed on $200,000 bail in Centre County Correctional Facility in Pennsylvania over the allegations. He was also fired from his job as a corrections officer at Rockview State Prison, near State College.