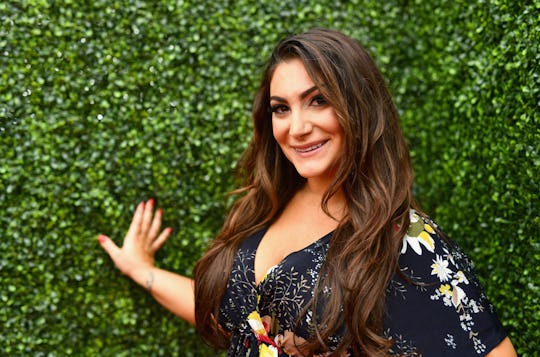 Emma McIntyre/Getty Images Entertainment/Getty Images
This 'Jersey Shore' Star Just Announced Her Pregnancy In The Most Firecracker Way
It is summer, it is almost the fourth of July, it is, well, a ~time~ to be pregnant in 90-degree heat, and Jersey Shore star Deena Cortese just announced her pregnancy with all the fanfare of a boardwalk amusement park. It was, in short, as extra as you hoped.
Cortese took to Instagram on Monday morning to make her firecracker of an announcement, telling her followers that the soon-to-be parents wanted to wait until they were ready to "spill the beans" about the pregnancy. Along with this major reveal, the Jersey Shore Family Vacation star also posted a beautiful photo gallery, with the first showing of the couple on a boardwalk, standing next to a sign that read, in part: "We're excited to say a little firecracker is on the way!"
Cortese told fans on Instagram that she "safely" into her second trimester with her first with husband Chris Buckner, who she married in October. The couple will welcome their baby meatball in December, according to her pregnancy announcement.
She wrote in her Instagram post: "Now that we are safely into our second trimester.. us and our little monkey are ready to tell the world Our little family is growing! We have a sweet little boy on the way!"
The 31-year-old reality TV star continued in her Instagram caption:
We Are truly blessed and our hearts are filled with so much joy and happiness💙 December can't come soon enough! Daddy and Mommy can't wait to meet you Christopher John❤️ you are going to be the most spoiled little boy ever!!!!
Buckner took to social media after the pregnancy was announced to thank fans for their support, according to E! News. The dad-to-be wrote on his Instagram account, as transcribed by E!:
Thank you everyone for all the love! We are finally starting the family we've always wanted and you're the only one I want to share this blessing with. Love you babe @deenanicolemtv.
The new husband paired his Instagram post with a different photo from their fourth of July-themed announcement. In the to-die-for adorable shot, the couple's dog is standing next to a chalkboard-style sign that reads: "It's official. I'm getting a new best friend. Guard dog duty starts December 2018," according to Entertainment Tonight.
Other photos from Cortese's pregnancy announcement include the Jersey Shore personality holding a pair of blue balloons as she and Buckner kiss, and a close-up shot of the pair holding an ultrasound of their baby boy, who they've named Christopher John, according to Cortese's Instagram post.
Cortese and Buckner have been together since 2011, and became engaged in November 2016. Buckner popped the question while the couple were on vacation in Riviera Maya, Mexico a week before Thanksgiving. At the time, Cortese shared the engagement news on Instagram, writing in a post:
I always knew I would spend the rest of my life with Christopher... But last night while we were walking on the Beach in Mexico he made it official! We're engaged!
They wed almost a year later, few months before she started filming Jersey Shore Family Vacation — the reboot of MTV's original Jersey Shore series — at the beginning of 2018. Cortese's fellow cast members attended the wedding ceremony, which took place on Oct. 28, 2017 in — where else? — New Jersey.
The only Jersey Shore star not present? Ronnie.
A rep for Cortese confirmed the nuptials to E! News back in October, telling the outlet:
Finally the special day for these two amazing people together has come that will never be forgotten! So glad they shared the memories with her fellow cast mates who came out to show love and support to the ultimate duo.
So, a little Jersey baby. It feels like when your sort of friend from high school announces they are pregnant, and you're excited even though you can't pin down why, exactly. Happy fourth to the cute fam!