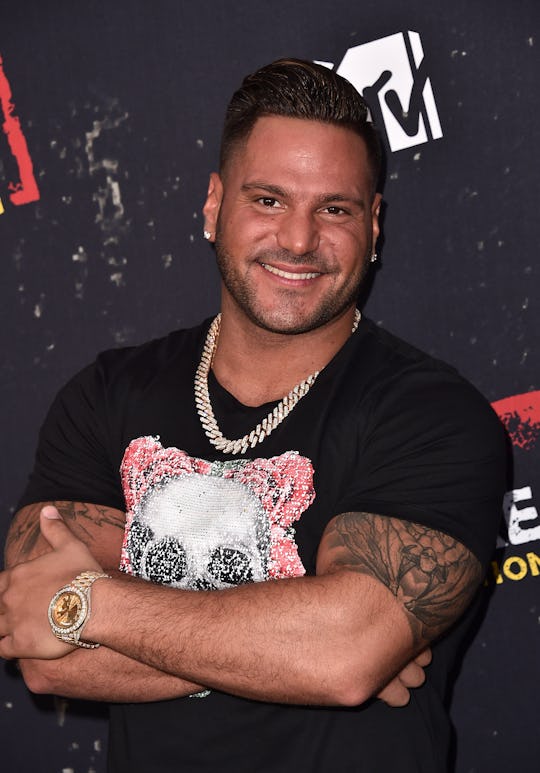 Alberto E. Rodriguez/Getty Images Entertainment/Getty Images
Ronnie Ortiz-Magro Says He Finally Knows "True Unconditional Love" Thanks To His Baby Girl
2018 has been a whirlwind for Jersey Shore star Ronnie Ortiz-Magro, to say the least. From Ortiz-Magro's appearance on the Jersey Shore reunion (*insert obligatory GTL reference here*) to the birth of his daughter, Ariana, on April 3, he has been busy. Amid all the chaos, however, Magro found some time on Wednesday to reflect on his new chapter with Ariana. And as one might expect, Ronnie Ortiz-Magro's message about fatherhood is full of love.
Just four months after Ortiz-Magro announced that he was set to be a dad, he and his girlfriend, Jen Harley, welcomed Ariana into the world on April 3. "He's [Ortiz-Magro] over the moon," a source told E! News shortly after the baby's arrival.
And on Wednesday, Ortiz-Magro confirmed his joy when he opened up about fatherhood for the first time via Instagram. "So excited to be a #father. Words can't describe the feeling," Ortiz-Magro gushed in the sweet message, according to Instagram. "You live your life not ever really knowing the meaning of true love until you have a child. True unconditional love. You love your Significant other, you love your family. I have to say I understand when everyone said you'll understand 'when you have a child of your own or when you become a parent' I know I have still tons to learn but im excited for this new journey & chapter In MyLife with my beautiful girlfriend & my Daughter."
It doesn't get any more adorable than this, right? It's clear Ortiz-Magro is beyond thrilled to be a dad, and it's heartwarming to hear how he has been humbled by fatherhood. It's a safe bet many parents can relate to the feeling Ortiz-Magro touched on his post.
Of course, Ortiz-Magro isn't the only one who has thoughts about Ariana's arrival. Nicole "Snooki" Polizzi, Ortiz-Magro's friend and Jersey Shore castmate, added her colorful take on the birth, telling People on April 5:
I mean, obviously s**t happens. And I always say s**t happens, because my kids happened. S**t happens and you're like, 'Oh my God, I'm not ready.' But then it happens and it changes your entire life. After talking to Ronnie, he's already a dad from day two. He's like, 'This is the best feeling ever — my life has totally changed, I'm a completely different person.' I'm like, 'Welcome to the club, babe.' And Ronnie's so good with kids.
And there is a *possibility* that Harley's pregnancy wasn't necessarily expected. "Things in life never goes as planned or ever happen the way you expect it," Ortiz-Magro seemingly wrote in reference to the baby news on Dec. 22, 2017, just three days before the official announcement.
And considering Ortiz-Magro wasn't necessarily prepared for fatherhood, he's learning about parenting as he goes.
"Things that were important to you just aren't important anymore. Your mindset is taking care of your family and being a good role model and basically just, you never want to see anything happen to them," Ortiz-Magro explained, according to Us Weekly. "She gets the hiccups and I go crazy because it's out of my hands. She'll get them for 5-10 minutes, I'm like 'Oh my gosh! I just want to stop them!' So I try to scare her, I'm like 'Boo!' and Jen's like, 'Uh, that doesn't work on babies.' I'm like 'Oh, that makes sense.'"
Ah, who ever thought one of Seaside's finest would one day be worrying about infant hiccups? That's the circle of life, people.
But in all seriousness, it's truly heartwarming that Ortiz-Magro is so open up about his love for Ariana. There's nothing more touching than listening to a parent gush about their newborn, and Ortiz-Magro is no exception.
Check out Romper's new video series, Bearing The Motherload, where disagreeing parents from different sides of an issue sit down with a mediator and talk about how to support (and not judge) each other's parenting perspectives. New episodes air Mondays on Facebook.