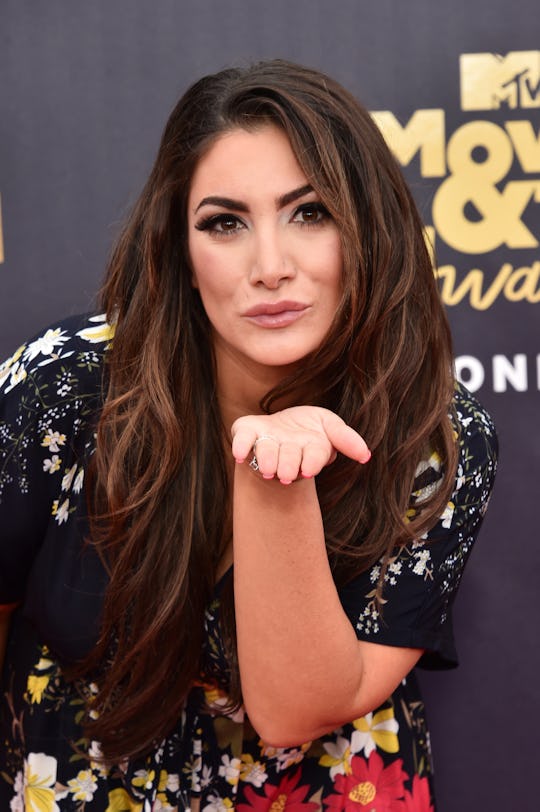 Alberto E. Rodriguez/Getty Images Entertainment/Getty Images
Deena From 'Jersey Shore's First Bump Pic Reveals A Lot Of Exciting Details About Her Pregnancy
The self-proclaimed "meatball" from Jersey Shore and Jersey Shore Family Vacation, Deena Cortese, announced earlier in the week that she is expecting a little meatball of her own. On July 2, Cortese and her husband, Chris Buckner announced they're expecting their first child, a son, due later this year. Now that the news is finally out, Cortese has been sharing some new details about her pregnancy. For example, in a new Instagram post, Cortese revealed how far along she is and her pregnancy cravings in the sweetest bump photo.
Bump updates are a great way for people to follow along with an expectant mom, and fans are so excited to do just that with Cortese's pregnancy. Now that Cortese has announced her pregnancy, she's ready to share some updates with her followers, which she did on Wednesday on Instagram. In a post, shared to her account, Cortese wore a form-fitting blue dress that showed off her growing bump and all of its glory — but the most exciting part about her update is what was written on the chalkboard, which broke down how her first trimester has been.
Cortese is now 14 weeks along, according to her Instagram post, which means that her baby is the size of a "large lemon." Her feelings so far about her pregnancy are exactly what those of a soon-to-be first-time mother should be — tired but excited. "Excited to share our pregnancy journey with all of you!!" Cortese wrote in the caption's photo.
Although Cortese and her Jersey Shore cast mates are often seen eating pasta on the show, Cortese revealed that she has only had cravings for some sweet stuff during her pregnancy. Cortese is craving fruit, candy, and ice pops, according to the Instagram post.
But the updates didn't stop in the Instagram post; Cortese also took to her Instagram Story on Wednesday, where she had the sweetest message for fans. "I'm super excited to share my pregnancy journey with you guys," Cortese said. "I'm super excited to share my first baby bump pic because I just popped and I'm ready to do them."
Even though Cortese shared her first bump photo and seemed super excited to share it with her followers, fans shouldn't expect to see bump-dates every week. In the photo's Instagram caption, Cortese wrote that she might not be posting them super frequently. "Don't worry I won't post bump pics every single week!" Cortese wrote. "Lol but this is the first!" Although the bump pictures might not be posted every single week, hopefully there are still many more to come.
For fans of Jersey Shore Family Vacation, this news could not be more exciting, especially since they knew that Cortese had been wanting to get pregnant for a while. Anyone who watched this season of Jersey Shore Family Vacation knows that parenthood is a huge topic on the show — especially since cast members Nicole (Snooki) Polizzi, Jenni (JWoww) Farley, Pauly (DJ Pauly D) DelVecchio, and Ronnie Ortiz-Magro, are all parents themselves, according to People. And now that Cortese is expecting her first child, she can join this very exclusive club.
If she ever needs parenting or pregnancy advice, Cortese can go directly to Snooki and JWoww, both of whom have two kids each, and are full of wisdom, according to Refinery 29. Although Jersey Shore and Jersey Shore Family Vacation showed Cortese, Snooki, JWoww, and their cast members partying and living it up, Snooki and JWoww told People that they're teaching their kids to not be judgmental on this topic — and this is a lesson that Cortese can teach her own child. JWoww said, according to People:
We don't want our kids to judge, but at the same time, we're doing no harm. We are having fun and they should be proud of their moms because we are able to provide a great life for them and kind of be cool while doing it. Even though our kids won't think we're cool.
"No matter what, kids are always embarrassed by their parents," Snooki added, according to People.
These are words that Cortese can take to heart when her child arrives in December. But given that there many more weeks left in her pregnancy, Cortese has plenty of time to rely on Snooki and JWoww for parenting and pregnancy advice.