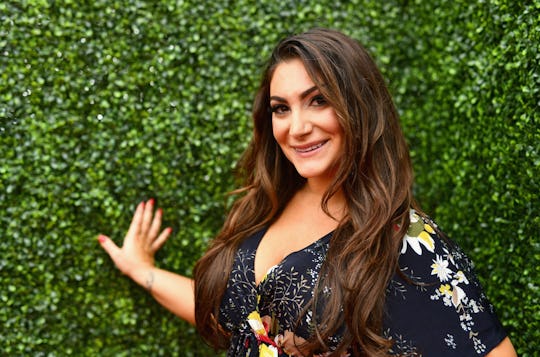 Emma McIntyre/Getty Images Entertainment/Getty Images
Deena's New Bump Pics Will Get You SO Excited For 'Jersey Shore's Littlest Meatball To Arrive
When Deena Cortese from Jersey Shore and Jersey Shore Family Vacation announced that she's expecting her first child, fans were super excited to know that the self-proclaimed "meatball" was going to have a meatball of her own. Although Jersey Shore Family Vacation is currently off air, Cortese's Instagram will definitely keep you in the loop about her pregnancy progress. And Cortese's new bump photos will get fans even more excited for her little meatball to arrive.
At the beginning of July, Cortese announced that she and her husband, Chris Bruckner, are expecting a baby boy due at the end of this year, according to Page Six. In the whole month since then, Cortese hasn't been too vocal about her pregnancy so far, taking to Instagram only twice to give fans a clear update on how she was feeling. For example, once she shared an update when she was 14 weeks along, according to People, and in that update, Cortese revealed a lot. On Instagram, she wrote that she was craving "fruit, candy, and ice pops" and feeling "tired and excited" now that she was out of her first trimester.
But it seems like Cortese is no longer shy about sharing photos of her bump. This past week, Cortese has posted a few special bump updates on Instagram. On Tuesday, Cortese shared the cutest boomerang of her Jersey Shore cast members, JWoww and Snooki, rubbing her bump. In the clip, you can tell that both of them are so, so excited for Cortese's baby-to-be.
It makes sense why JWoww (aka Jenni Farley) and Snooki (aka Nicole Polizzi) might be just a little excited for Cortese to become a mom — they are moms themselves. Farley is the mom to two young children, according to People, 4-year-old daughter Meilani and 2-year-old son, Greyson. And she loves it. On Instagram, Farley wrote that it was a "privilege and honor" to be a mom. And Polizzi is also a mom to two young children, 5-year-old Lorenzo and 3-year-old Giovanna, according to People. On this past season of Jersey Shore Family Vacation, Polizzi stated time and time again how much she missed being away from her kids. "I'm a 24/7 mom," Polizzi told People. "I missed [my kids] the night I got there."
With these moms (and their wisdom) right at her fingertips, it's obvious that Cortese will get plenty of help and advice from them whether she likes it or not. This upcoming season of Jersey Shore Family Vacation is already proving that her former roommates are so excited for the baby's arrival. In a preview for this new season, which is set to air on Aug. 23, according to Deadline, Cortese can be seen announcing her pregnancy to her very happy (and shocked) roommates.
On this season of Family Vacation, fans will be able to keep up with the meatball (and the little meatball growing inside of her) as she lives in a house with her former cast mates as they party and celebrate life together in Las Vegas, Nevada, according to Entertainment Weekly. This, of course, should be very exciting. But in the meantime, on Wednesday, Cortese posted a brand new bump photo that showed off her progress. In the photo, Cortese looks absolutely radiant with her hand resting on top of her bump.
"OMG you look amazing!," Cortese's Jersey Shore cast mate, Sammi "Sweetheart" Giancola, commented on the photo. "Such a cute lil bump."
Given her last pregnancy update posted around 16 weeks in mid-July, Cortese should be around 19 weeks pregnant and close to her halfway mark in her pregnancy.
With everything she's shared so far, it's obvious that Cortese couldn't be more thrilled to be a mom soon and her Jersey Shore family is right there with her. And within a matter of weeks, fans will be able to see even more of her journey when Jersey Shore Family Vacation returns.