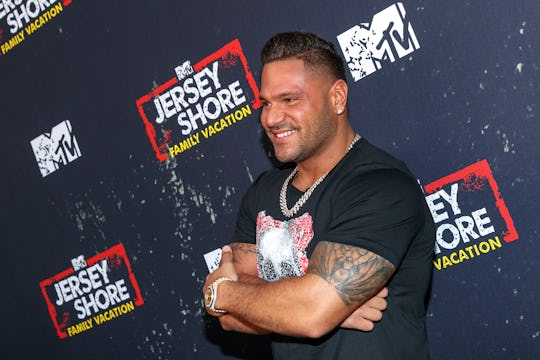 Rich Polk/Getty Images Entertainment/Getty Images
'Jersey Shore's Ronnie Ortiz-Magro Revealed His Daughter's Name & It's SO Beautiful
It feels like it was just yesterday that Ronnie from the Jersey Shore was fist-bumping his way through the beachside town of Seaside Heights, New Jersey. Earlier this month, though, the Jersey Shore star officially became a father to a baby girl and, since then, it's so obvious that he's totally loving his new role as a dad. And on Tuesday, Ronnie Ortiz-Magro revealed his newborn daughter's name and it's perfect.
In case you missed it, Ortiz-Magro and his girlfriend, Jen Harley, welcomed their first child into the world on April 3, according to Us Weekly, and it seems like things are going really well for the new little family. As Ortiz-Magro told the magazine on Tuesday, his brand new daughter has a really sweet and beautiful name: Ariana Sky.
Ortiz-Magro and Harley announced that they were expecting back in December, in a sweet Instagram post of the dad-to-be embracing his girlfriend's pregnancy bump. "Thank you to everyone who has been supportive with advice & encouragement," he wrote in the caption. "People keep saying becoming a parent is the part of life. I've been blessed enough to have SOO MANY best parts of my life."
Now, their daughter, baby girl Ariana Sky, is officially here and the parents both seem so thrilled.
And as fans may see the baby's name to simply be sweet and lovely, it's actually pretty spectacular. Speaking exclusively to Us Weekly, Ortiz-Magro explained that the name Ariana had actually been in the couple's minds for a while. Per the magazine, the 32-year-old explained:
When we first started dating in the beginning, we'd joke around saying, 'What if we had a kid? It'd be crazy and good looking!' And we'd say 'What would we name it?' We joked that we liked Ariana. When she found out she was pregnant, we looked at each other and we're like, 'Guess we're naming the baby Ariana if it's a girl.' Next thing you know, we find out the gender and we're like, 'Guess so!'
So clearly, the couple having a baby girl that they could name Ariana is pretty miraculous. And what's more, Ariana's middle name is also pretty significant, as Ortiz-Magro explained that Harley actually wanted Sky as a first name, but the couple was able to compromise, per Us Weekly.
And the new dad also seems to love having a daughter, too. Back in March, he spoke to People about what he was feeling in terms of having a girl and not a boy. "I'm actually really excited. I have a lot of younger sisters, and I feel like this girl is going to make me softer," he told the magazine, also saying that having a daughter will make him "more normal and human" and he's "really looking forward to the next chapter of my life."
Well, that next chapter has officially arrived, and Ortiz-Magro and Harley are definitely working together to tackle parenting head-on. Continuing his conversation with Us Weekly, the Jersey Shore star explained that he and Harley were doing well in sharing responsibility of little Ariana. Per Us Weekly, the new dad explained:
We figure it's like a job and you have shifts as a job. I'm an early bird! I like to go to bed early, wake up early. I go to bed around 11 and wake up at, like, 3. Then she'll sleep until 9. I'll watch the baby through then, then I'll go about my day – whether it's gym, tan or laundry. Then when I get back, she'll handle her errands. We take turns. We're a tag team – I tag her in, she tags me out.
After everything, it seems evident that the new parents are simply happy with their newborn.
And with a name like Ariana Sky, Ronnie Ortiz-Magro's daughter is sure to be just as sensational as her dad.
Check out Romper's new video series, Bearing The Motherload, where disagreeing parents from different sides of an issue sit down with a mediator and talk about how to support (and not judge) each other's parenting perspectives. New episodes air Mondays on Facebook.