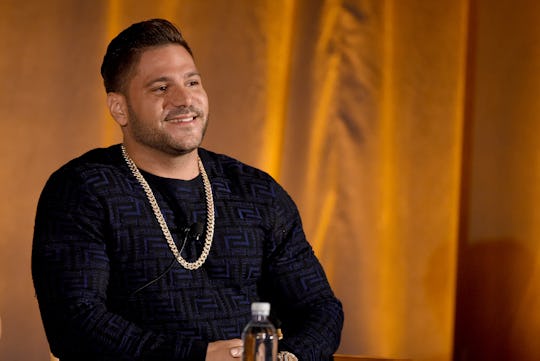 Kevin Winter/Getty Images Entertainment/Getty Images
'Jersey Shore's Ronnie Ortiz-Magro's Public Breakup With Jen Harley Is A Reminder To Parents
On April 3, Jersey Shore star Ronnie Ortiz-Magro and his girlfriend, Jen Harley, welcomed their first daughter together. Ortiz-Magro was thrilled about his little one's arrival, to say the least, and everything appeared to be going great. But throughout the weekend, fans witnessed Ronnie Ortiz-Magro's breakup with Jen Harley unfold on social media. And on Monday, the situation escalated after Harley took to Instagram to live stream a very tense and concerning fight between the couple. Although the video is uncomfortable to watch, it's worth discussing because it acts an important reminder to parents who might be going through a similar situation. Experts warn that bashing your ex on social media can potentially lead to parental alienation and other long-lasting consequences.
Shortly after Harley gave birth to the couple's child, Ariana, Ortiz-Magro took to Instagram on April 18 to the sing the praises of his new family. "So excited to be a #Father. Words can't describe the feeling ...," a snippet of his message read, according to Instagram. "I know I have still tons to learn but im excited for this new journey & chapter In MyLife with my beautiful girlfriend & my Daughter."
Sadly, Ortiz-Magro's joy didn't last for very long. "Note to self, can't turn a natural born HOE, into a HOUSEWIFE, if you find them in the gutter then leave them in the gutter," Ortiz-Magro wrote on Sunday via his Instagram stories, according to Refinery29. "Not all people can be saved when they are so far gone. All you can say you did ur best and keep it moving."
Making matters even worse is that Ortiz-Magro followed up the post with a yes or no poll on Instagram stories. "If your significant other keeps sex videos of their ex, shouldn't they show enough respect to delete them, esp after being in a new relationship for over a year?" Ortiz-Magro asked his followers, according to Us Weekly. Ortiz-Magro did not immediately respond to Romper's request for comment.
Editor's Note: The Instagram post has since been deleted.
Although Ortiz-Magro didn't refer to anyone by name in the posts, there's a good chance they were about Harley — especially given her reaction. "Can't turn a coke head into a father! Yeahhh buddy," Harley wrote on her Instagram story, according to the New York Daily News. Harley did not immediately respond to Romper's request for comment.
Unfortunately, the fight escalated on Monday during a confrontation at the couple's home in Las Vegas, Nevada. In a live stream on Instagram, the pair argue back and forth — and at some point during the argument, Ortiz-Magro supposedly tries to grab Harley's phone out of her hand. "Back the f*ck up," Harley can be heard telling Ortiz-Magro, according to E! Online. The two then appear to get into a physical altercation over the phone. The video, which is incredibly disturbing, finally ends when an unidentified person in the home attempts to intervene.
Following the live stream, a source confirmed that the two are separated. "They are broken up. They're done ...," the insider said, according to E! Online. "They have split but for now they are both living in his Las Vegas house. Jen will most likely be moving out."
Although there's a lot to break down about the pair's breakup, one of the most important points worth discussing here is how this public fight could potentially affect Ariana. For instance, an older Ariana will be privy to her parents' feuding with one click of a button — a fact that is a bit troubling and sad, to put it mildly. A better way for parents to handle a similar situation similar is to keep it positive on social media or say nothing at all. A good example of this is Khloé Kardashian's handling of Tristan Thompson's alleged cheating. (Thompson did not immediately respond to Romper's request for comment.) Instead of Kardashian bashing Thompson on the 'gram, she included him in her post celebrating True Thompson's birth. Even though it's not easy at times, parents probably want to avoid leaving an electronic paper trail of their worst co-parenting moments.
As for why it's so important to remain calm and collected on IG, parent bashing can lead to issues for your child down the road. And some might even argue that bashing your ex on social media can lead to parental alienation. Rosalind Sedacca, a divorce and parenting coach, explained in an essay for HuffPost:
It creates anxiety and insecurity. It raises their level of fear. It makes them question how much they can trust you and your opinions — or trust themselves. And it adds a level of unhappiness into their lives that they do not need or deserve.
So, it seems like the best bet for Harley and Ortiz-Magro (and other separated parents out there) is to think twice before posting something negative on social media. Although it might be difficult at times, putting the phone down is what's ultimately best for your child.