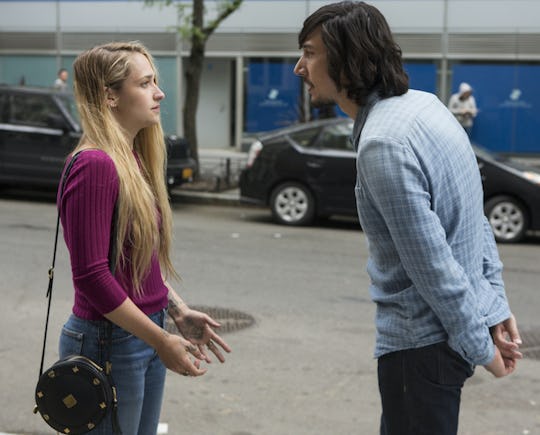 Craig Blankenhorn/HBO
Jessa & Adam Hook Up On HBO's 'Girls,' Although It Came With Major Consequences
It was only a matter of time until Jessa and Adam got together on Girls Season 5. Yes, the two have hooked up in the past, but there was obviously a change in feelings over the last season that made their hook up in "Old Loves" much more significant. Jessa and Adam's relationship, as strange as it is, makes sense on the show. The two know each other's faults and they accept them. They never criticize the other for having flaws, and that's why I think that they work so well. The only problem is, Adam and Hannah used to date, so Jessa dating Adam is not going to go over well when Hannah finds out.
In "Old Loves," Adam, once again, tries his hardest to be apart of Jessa's life. It's actually very charming because he didn't put half of this amount of effort into his relationship with Hannah — so, he clearly values this relationship much more. Jessa's reservations towards their relationship are essentially the only reason these two aren't together yet. Understandably so, Jessa doesn't want to hurt Hannah by getting together with Adam.
So, to remedy the situation, Jessa basically forces Hannah out of her life. The scene where Hannah and Jessa get rice pudding shows that Jessa thinks that pushing Hannah away by being rude will ultimately justify her relationship with Adam. If it is Hannah's decision to cut Jessa out of her life, Jessa is free to be with whoever she wants to be with.
This scene shows let's us in on a few things. First, I think it shows how badly Jessa wants to be with Adam. These two make sense. And I think, despite not wanting to acknowledge it, Jessa knows that. Adam certainly knows it — it's why he follows her throughout New York City.
The rice pudding scene also shows just how far Jessa has to come, still. Over the past few seasons, Jessa has evolved. But, this scene shows that she still doesn't really understand how to communicate with people. She truly thinks that instead of talking to Hannah about her relationship with Adam, she can just be mean and push her out of her life.
Hannah is bound to find out about this relationship, and I am sure she'll be hurt. I think, having a pretty good understanding of Hannah five seasons in, that she'll see this as an attack on herself versus a relationship that blossomed despite of her. I hope that there is a world where Jessa and Hannah can be friends while Jessa and Adam date, but at this point those two options seem mutually exclusive.