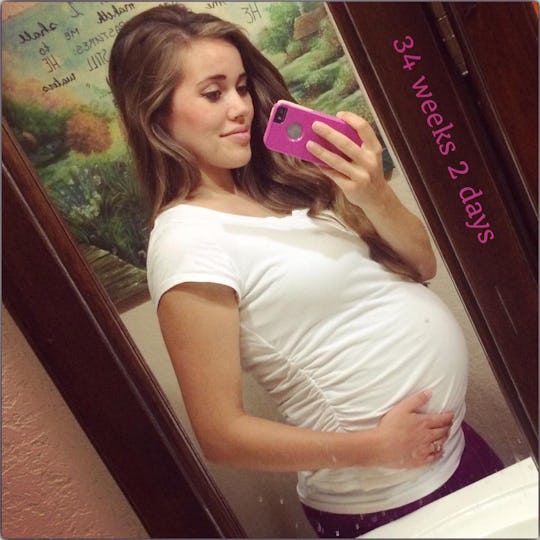 Jessa Duggar Gives Birth To First Child With Ben Seewald, & The Internet Is Celebrating
It's a boy for Jessa Duggar, who gave birth to her first child with husband Ben Seewald on Nov. 5. Jessica Seewald, Ben's sister, announced the birth on Instagram with a blue post-it note declaring, "I am an auntie." A rep for the new parents also confirmed the birth to People. 
When the couple first announced they were expecting, the first Duggar daughter said she was thankful for one year of marriage before baby made three. She told People back in April that it has been a special year for the two of them. "I think having this first year together to share our lives, just the two of us, has been special." Both Jessa and Ben predicted that Jessa will be the stricter parent.
The Internet was abuzz with the news Thursday night, especially since fans have closely watched the romance between Jessa, 23 and Ben, 20. You can  watch the Jessa and Ben wedding ceremony online or just click through Instagram, where Jessa commends Ben for being so supportive throughout her pregnancy. In one post, she wrote, "You're already such a sweet daddy, caring for your preborn baby! You're my #1 cheerleader."
Here's the announcement from Jessica Seewald: 
No word yet on baby boy Seewald's name or birth weight, which his family had been speculating about before his arrival.
Now that he's here, baby boy Seewald's adventures will no doubt be chronicled on social media at every turn, so expect to be kept up to date. Stay tuned!
Images: Jessa Seewald/Twitter; jessicaseewald/Instagram