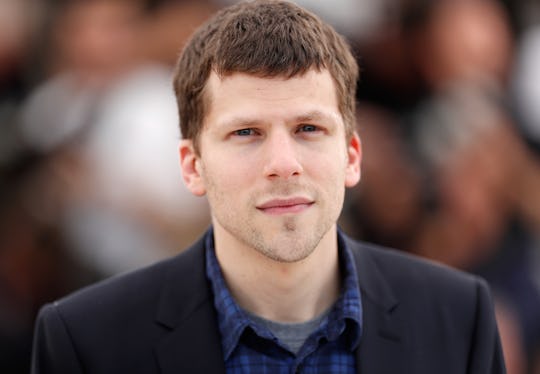 Pascal Le Segretain/Getty Images Entertainment/Getty Images
Jesse Eisenberg & Anna Strout Are Parents!
After managing to keep the exciting news under wraps for months, actor Jessie Eisenberg and Anna Strout welcomed their first child, a baby boy, according to E! News. The Social Network star and his longtime girlfriend were reportedly seen on Monday morning walking around New York City with their new addition. But, that might be all information fans get to know about their little one for now since the new parents are notoriously private. Romper has reached out to Eisenberg's representatives for comment and confirmation of the baby's arrival and is awaiting a response.
News broke that Eisenberg and Strout were expecting their first child together last October, according to E! News. The low-key pair have reportedly been together for 10 years, taking a hiatus in 2012 that ended sometime in December 2015 before the 33-year-old actor traveled to London to perform in The Spoils, a play he wrote that tells the story of a narcissistic young man dealing with the news that his high school crush is marrying another man, E! News reported.
This happened around the time that Eisenberg spent four months volunteering at a domestic violence shelter in Bloomington, Indiana — where Strout's mother serves as executive director — and helped raise $500,000, which was "enough money to pay off the shelter's mortgage", according to E! News.
Although the new parents didn't make a public announcement regarding their reunion, the cat was essentially out of the bag when they were photographed together back in January.
The Now You See Me star rarely speaks about his love life publicly, but he did reveal in an interview with Seventeen magazine back in 2011 that Strout was the only girl he ever dated — although he reportedly dated actress Mia Wasikowska during their break — and gushed about why he loves her:
I find people who want to help other people to be the most interesting. I come from a family of teachers, and my friends are teachers, often times in very difficult school situations. My job is so selfish and focused on my own vanity that I like to surround myself with people who are actually helping people throughout their day.
According to The Daily Mail, Strout often works with her mother on charity projects and once worked as a crew member and assistant on the set of The Emperor's Club, where she met Eisenberg nearly 15 years ago.
Because the new parents take their privacy very seriously, it's not entirely clear when exactly their little one arrived or what his name might be. Even though fans should be used to Eisenberg's low-key style, if and when he dishes any news about his little boy, it will be a pleasant surprise.