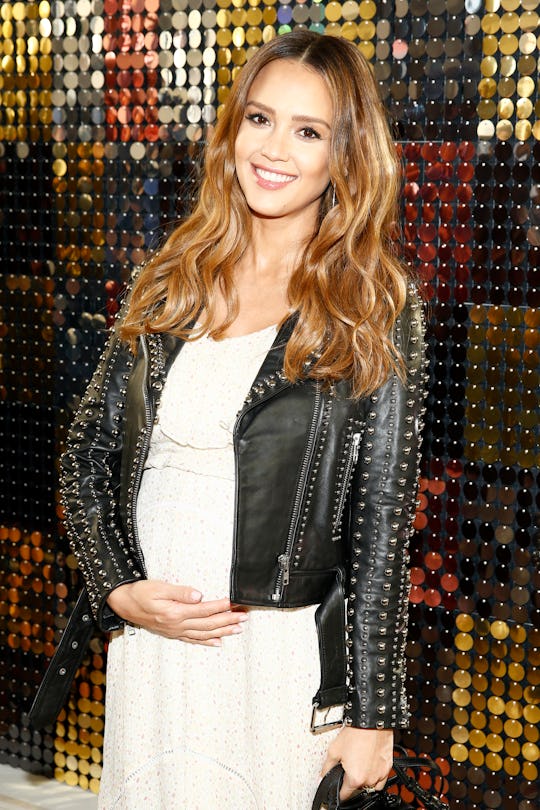 Brian Ach/Getty Images Entertainment/Getty Images
This Photo Of Jessica Alba With Her Newborn Is So Relatable It Hurts
Jessica Alba has always been relatable as a mom: for years now, she's been reliably open with fans when it comes to all things good, bad, and funny in regards to parenting. So, of course, Alba binge-watching Netflix with her newborn son in a recent Instagram photo was a scene all moms could probably relate to. "Tuesdays/all the days w my Hayes," she wrote in her Instagram caption. "Chillin watching [Grace and Frankie] — I'm on season 4 and I don't want it to end."
Yep, that sums up pretty much every new mom's experience with newborns: binge-watching Netflix while breastfeeding. And while diaper-changing. And while, you know, keeping a tiny human alive. I mean, babies don't actually provide any conversation, but they're awake a lot — and they require you to be, as well, so Netflix is actually a really helpful companion.
This isn't the first photo Alba has shared of little Hayes Alba Warren, who was born on New Year's Eve 2017. The very next day — to the joy of many fans — Alba shared an adorable shot of Hayes' sleeping face, along with the newborn's birthday and full name. "Best gift to ring in the New Year!!" she wrote on Instagram at the time. "Cash and I feel so blessed. Haven and Honor are already obsessed with their new baby bro."
Alba's also been keeping it real with fans in her Instagram Stories. "Up every 2.5 hours round the clock," she captioned a picture of black coffee, according to Now To Love. She also shared a selfie with the caption:
A hot shower and a little makeup to make me feel human. #newbornmomlife
Alba's clearly enjoying — and doesn't mind sharing — every aspect of #newbornmomlife, even the bits that aren't quite as pleasant. That's probably one of the reasons actress Jaime King kept Alba on speed dial for any motherhood questions after she first gave birth, with King telling Entertainment Tonight, "I always called her."
Alba has also been honest about her fears when it comes to adding a third child to the family, despite sharing that her two daughters were nothing but enthusiastic about having a baby brother. "Cash and I at night are like, 'What is it going to be like having another kid? What does that mean for our family dynamic?'" she told Extra last year. "We kind of both have butterflies."
Again, totally relatable for any parents who have added more children to the family.
Fortunately, though, the founder of The Honest Company and mom of three — including newborn Hayes, 6-year-old Haven, and 9-year-old Honor — has also learned to be flexible in what works for her as a mom, and realized that parenting changes depending on each child and each situation.
"I think the biggest thing is that what works for you, or what works for your friend, isn't going to work for everyone," Alba told Yahoo! Parenting in 2015. She continued:
There is no right or wrong. I have two very different girls. And the way that I parent one is different than the way that I parent the other. ... And I think we as women — and as moms — we need to show younger girls that we support each other no matter what.
Here's to hoping this celebrity mom stays just as honest (see what I did there?) about life with three kids as she has with her other parenting adventures in the past. Judging by her tired selfies and honest posts about craving whipped cream during her pregnancy, something tells me that won't be a problem. In the meantime, however, I hope she keeps enjoying the Netflix and plenty of Grace and Frankie while she can.
Check out Romper's new video series, Bearing The Motherload, where disagreeing parents from different sides of an issue sit down with a mediator and talk about how to support (and not judge) each other's parenting perspectives. New episodes air Mondays on Facebook.