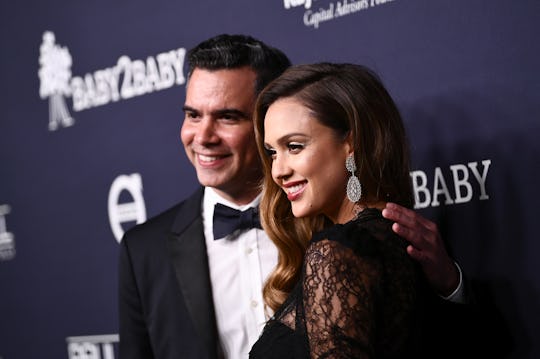 Emma McIntyre/Getty Images Entertainment/Getty Images
Jessica Alba & Cash Warren Volunteer With Their Kids For This Important Reason
Every so often, I'm forced to remind my always-wanting-more second-grader to be grateful for all that he has. Like when he's endlessly nagging me for a Wii U, or a Nintendo Switch, or an Apple TV. (Or really, any and all cool electronic gadgets and game systems he sees.) Because we already have plenty of game systems and electronics in our house — and there are plenty of kids who would love to have all the neat playthings he has. (Or even just a safe place to live and guaranteed meals, for that matter.) And we're an average, middle-class family. So just imagine the reality check celebrity children probably need from time to time. As it turns out, Jessica Alba and Cash Warren volunteer with their kids for this important reason.
During an interview with Us Weekly, Warren opened up about his and Alba's ultimate parenting goal — as well as their family's charitable holiday traditions. "Every year we take the kids down to volunteer," he told the publication on Tuesday, Dec. 4. "When we give them presents, they have to donate some of their old ones to children in need. We try to include the kids just so they can learn about just the cycle of life and that it's very much about receiving and giving."
Warren went on to say:
It shows them how fortunate we all are and there are a lot of kids that don't have what they have and so it's just important to keep them grounded as best as we can. We don't want to raise a–holes.
LOL. Amen.
In case you lost track, Warren and Alba have three children together — Honor, 10, Haven, 7, and Hayes, 11 months, according to E! Online and Us Weekly. So they're still relatively young. But that doesn't mean these celeb parents aren't already teaching them other important life lessons in addition to gratefulness.
During a recent interview with Parents, Alba opened up about how she teaches her kids about the importance of hustle. "I bring my kids with me on business trips," the mom of three told the publication. "I recently took Honor with me to Milan. We went two days early so we could have some together time. When I had meetings, she'd wait for me in another conference room." She continued:
I can't be at every school drop-off and pickup, but I'm showing her my time is valuable and that she has value to me. I also want her to see that my work is important and that I'm trying my best to make a difference, and maybe she'll absorb it.
To be honest, it can be incredibly difficult — you know, on top of the daily logistical challenges of child-rearing — to make these types of life lessons a priority. At the same time, it's not always easy to accurately convey to my privileged child with words that some kids don't even have basic necessities — like regular meals, warm clothes, or a place to live. So I think I might have to take a page out of Jessica Alba and Cash Warren's parenting book, and have my children volunteer in a manner that allows them to see it for themselves. While also helping others, of course. Because I certainly want to avoid raising *ssholes at all costs, too.
This first-time mom wants to have a home birth, but is she ready? Watch how a doula supports a military mom who's determined to have a home birth in Episode One of Romper's Doula Diaries, Season Two, below. Visit Bustle Digital Group's YouTube page for the next three episodes, launching Mondays in December.