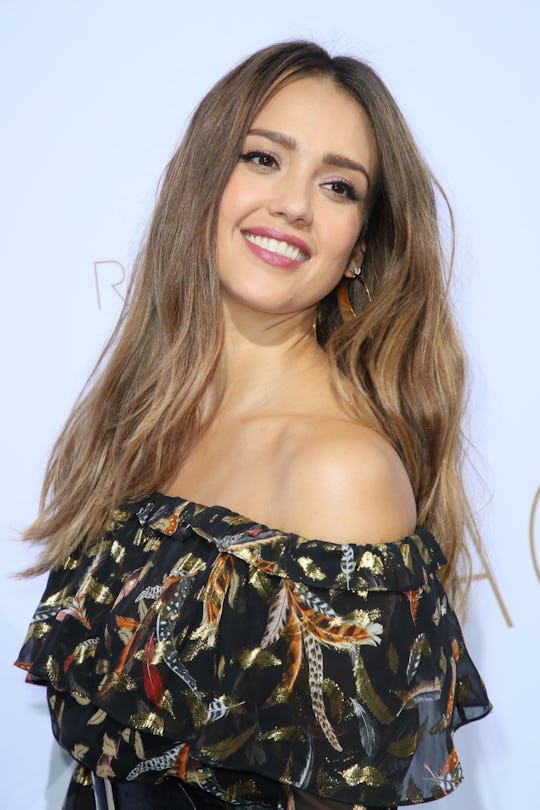 David Livingston/Getty Images Entertainment/Getty Images
Jessica Alba Is All About Trial & Error, At Home & At Work — EXCLUSIVE
As a mom to three children, Jessica Alba knows what it's like to fail. Like any mother trying to make her way through the highs and lows of parenting, Alba has learned how to embrace her mistakes and, instead of dwell on them, use them to succeed. And not only has this mindset helped her parent three children, but it's helped her grow her business, The Honest Company. So as Alba focuses on her children and a new line of fall diapers, she is ready to remind herself that the literal and figurative sh*t in all of our lives really, and truly, isn't all that bad.
"I try to be open as a parent and as a friend," Alba tells Romper via phone. "And I certainly try to get feedback as a wife through my husband on how to say things better and do things better." Alba says that the same applies to her company, and at The Honest Company they're "constantly trying to improve our product, our services, everything we do." But unlike her scheduled quarterly meetings at her company, where everyone sits down to discuss areas to improve their organic and aesthetically-appealing products, feedback as a parent is more "learn as you go."
"You either got what you needed for your kid or you don't," Alba says. "And when you try hard and you don't I think you just kind of have to learn from that experience." Alba admits that some days she feels productive and successful, and some day she doesn't. But seeing how her kids, Honor (10), Haven (7), and Hayes (8 months), react to her parenting lets her know what works well and what doesn't. In other words, she has a boardroom at home and a boardroom at the office.
Working moms are the primary or sole earners for an estimated 40 percent of households in the United States, according to the U.S. Department of Labor. In other words, Alba isn't alone, and she knows it. Which is why she's willing to be open and honest about what works at home and in the office, and what doesn't. Embracing her mistakes is learning to use them to her advantage have undoubtedly made her a better mom, a better businesswoman, and a better role model for other working moms who are often persuaded to keep their perceived "failures" to themselves."
"I feel like the one thing being a mom did for me, and maybe that's different for other people, is I stopped caring so much about what other people thing," Alba says. "I used to care so much about other people's opinions of me." Instead of focusing on unhelpful, and often hurtful, criticism, Alba focuses on constructive feedback and her own trial and error to figure out how she can be a better friend, a better wife, a better daughter, and a better mom. "It's important to not give haters too much of your mental space or let them affect your feelings," she says. "Of course I get my feelings hurt and stuff, but I just try not to care too much or read into it."
For Alba, the most daunting "trial and error" moments came when she was a brand new mom. "I think the most daunting is going from zero kids to one kid," she says. "That's the first time you realize there's someone that exists that wouldn't exist if it weren't for you. Your heart is beating outside of your body and walking around, and doesn't really know how to do things, and you have to teach them the best you can in your own opinion." And in those moments, especially early on, Alba admits that the love you have for your child can feel a little one-sided. A newborn can't really give his or her parents any "feedback," which is precisely why embracing your mistakes, and your successes, is so important.
Going from one to two, and then two to three, kids wasn't a walk in the park, of course, and Alba admits it took a while to learn about each one of her children and their unique needs. "They're very different," she says, "so what works for one kid and what's meaningful for one kid isn't necessarily meaningful for the other. And trying to figure out their nuances, you know, that's a whole thing."
That time Alba has spent recognizing and honoring the uniqueness of each child has paid off, though, at home and at the office. The new fall line of The Honest Company's diapers have a variety of designs that parents can choose from, essentially customizing their baby's diaper selection. "As a modern mom I wanted to think of my diapers as more of a fashion item, you know? And sometimes your baby's just in that diaper and they look so cute," Alba says. "So it's nice to be able to have that fashion edge to our diaper, and parents are really loving it. Our new fall patterns are out now, and they're so sweet." And on top of looking great, the diapers are hypoallergenic and made without chlorine processing and additives (like fragrances, lotions, and latex).
At the end of any trial and error process, of course, comes the chance to enjoy the spoils. Not only is Alba loving her company's new line of newly-launched diapers, but she's loving the time she can spend at home with her family of five. "Adding a third [kid] into the mix has actually brought our family together in a real cool way," Alba says. "The girls love it. It's like having a real life baby doll, and they just love it. And Cash and I like having someone who isn't talking back and being a pain but is just, like, easy. You know, he really just wants to eat and sleep; he wants you to stare at him, hold him, and cuddle him. It's awesome."
Hey, being a working mom doesn't mean you need to listen to constructive criticism and feedback all the time. Sometimes, a cuddly, quiet baby will do the trick.