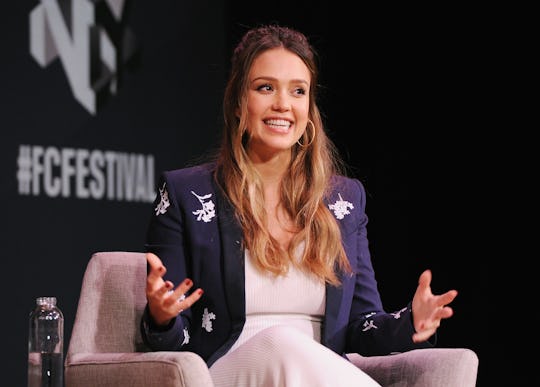 Craig Barritt/Getty Images Entertainment/Getty Images
Jessica Alba Says Her Favorite Time Of Her Day Is Feeding Her Son & It's So Relatable
Everyone has 24 hours in their day to accomplish everything — but not everyone puts those same 24 hours to use. Actress, beauty brand mogul, and super mom, Jessica Alba, is a great example of this — with so many things on her plate, it is impossible to imagine that Alba has the same amount of hours in the day as everyone else. But she does, and there are some parts of her day that she enjoys than most. After recently giving birth to her third child, Alba said her favorite time of her day is feeding her son and its the cutest thing you will ever hear.
There are really two types of people in the world — morning people and people who hate the mornings. There really is nothing wrong with falling into either category — some people need a few cups of coffee before other people can talk to them while other people live to watch the sunrise. But when you have a baby, all of this is essentially thrown out the window — your baby will wake up (and therefore wake you up) at any time they want ignoring all requests from morning people.
In an Instagram post on Friday, according to People, Alba revealed that she was not a morning person until the birth of her son, Hayes Warren, in late December.
In the video, a fresh faced Alba showed Hayes looking so peaceful sleeping on her chest. Both mother and baby could not look any more calm and at ease — and you definitely wouldn't be able to tell that neither of them are morning people. Alba wrote in the video's caption:
I've never been a morning person...until now. Our morning feeding/cuddle time is my favorite time of day #morningsunshine
How could you not be a morning person when you have someone as cute as that so close to your heart? And with all of the hours and moments of the day to choose from, whether it be at work, or with her two other daughters — Haven and Honor, with husband Cash Warren — it's understandable why she would pick feeding her son as one of her favorite times of her day. Studies have shown that breastfeeding your baby, especially during those early months of life, is one of most pertinent times to bond with your baby, according to TIME. Breastfeeding is also a way to stop whatever you're doing in the day and relax with your baby — no matter what is going on in the world around you, all you can focus on is one thing — getting your child nourished.
But those who follow Alba's Instagram account wouldn't be surprised by this admission — Alba's photos of her breastfeeding and cuddling Hayes are also super cute and plain normal. From these photos, you wouldn't be able to tell that Alba is a celebrity — instead, she's just another mother who is bonding with her son. I mean, earlier this week, Alba even posted a photo of herself to her Instagram story breastfeeding Hayes in a Target dressing room (who else can say that they've been there?).
Alba has been super open about breastfeeding in the past. In a 2013 interview with People, Alba called for other mom to stop judging each other when it comes to their decisions to breastfeed and it's clear that Alba lives her life, when it comes to breastfeeding her son, without shame. "When you become a mom, the last thing you want to do is be judged," Alba told People at the time.
But no one is judging her for changing her ways from being a morning person to enjoying every little moment with her infant son — especially when its her favorite time of the day.