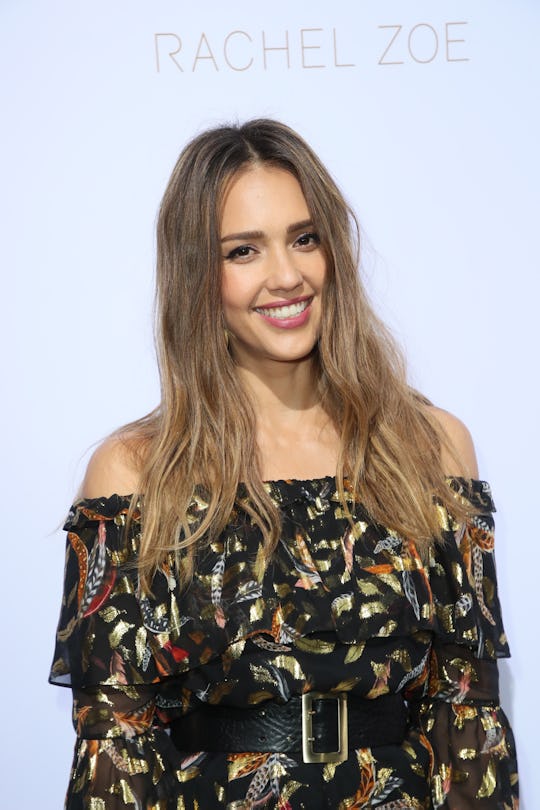 David Livingston/Getty Images Entertainment/Getty Images
When Jessica Alba's Kids Complain About Her Going To Work, Here's How She Responds
Most people know Jessica Alba as an actress, who has starred in movies such as Fantastic 4 and Sin City. But most moms know Alba as a mom of three and the co-founder of The Honest Company, which has been saving parent's lives and keeping their diaper bags happy since 2011. Both Alba and husband Cash Warren are both incredibly busy people, which their children recognize. And Alba's comments on teaching her kids about hard work are very down-to-earth, and they may be similar to what you say to your own kids when they get fussy about your work schedule.
Alba gave birth to her third child, a son named Hayes, at the very end of last year, according to Us Weekly. He joined his older sisters, 10-year-old Honor, and 7-year-old Haven, to round out the family, according to People. During her last pregnancy, Alba swore that it was going to be her final pregnancy, according to E! News — but it wasn't because she is too busy to raise her kids — she has a key to having a work-life balance. In a new interview with Parents, Alba told the magazine that she is teaching her kids to appreciate all of the hard work that she and Warren do during the weekdays — and it's something that other parents can try in their own homes.
"If my kids complain when Cash and I go to work I say, 'Do you like your life? Because it's not free. Your dad and I work hard so you have everything you have. That's why you take care of your stuff. And guess what? If you don't work hard, your life won't always be like this,'" Alba told the publication.
Although Alba's words to her daughters might seem a bit stern, she's teaching them such an important lesson to recognize their privilege and work hard to have the lifestyle that they want when they're older. This is especially important since Alba and Warren are working hard to provide their kids a happy life right now. Alba told Parents that she hopes this will help her kids figure out what they want to do — which involves going to school, doing well, and treating others well.
Alba isn't alone — 70 percent of mothers with children under the age of 18 work outside the home, according to TIME. Because of this, 56 percent of moms say it's difficult for them to balance their responsibilities at home, spend time with their kids, and focus on their job, according to a 2015 report from the Pew Research Center. But Alba does her best to overcome this "mom guilt" by bringing her kids to work with her. Alba told Parents that she actually brings her kids on her business trips, explaining:
I recently took Honor with me to Milan. We were two days early so we could have some together time. When I had meetings, she'd wait for me in another conference room. I can't be at every school drop-off and pickup, but I'm showing her my time is valuable and she is valuable to me. I also want her to see that my work is important and that I'm trying my best to make a difference, and maybe she'll absorb it.
It's great that Alba is emphasizing the importance of work with her children. Although some parents might feel guilty about the time they spend away from their home at work, Alba's words can serve as a reminder to parents that their kids are watching them and taking note of their work ethic for their own futures.
Although Alba might emphasize exposing her kids to her job, it's important that she doesn't bring the stress from work home with her. If a parent is too stressed out from work, this stress can negatively affect kids and carry over to them — even if they weren't at work with the parent, according to U.S. News & World Report. But even Alba knows this to be true — which is why she told E! News in 2017 that she loves her job and refocuses her priorities when things become too stressful. Alba said:
A happy work place actually makes for a healthier person and healthier children. If you work five hours a day, but hate your job, your attitude when you come home and what that imposes on your kids outlook and their life and relationship with them, it really affects it.
Alba is just as focused on work as she is on her kid's happiness. And at the end of the day, it seems like she's got a good handle on her work-life balance.