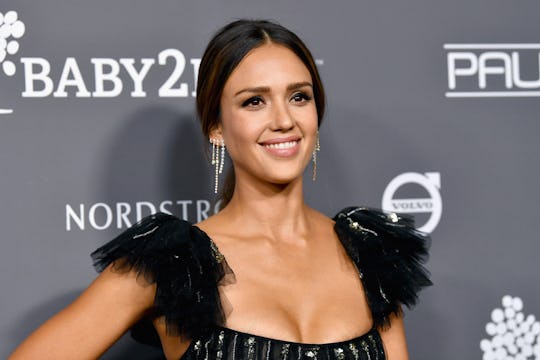 Emma McIntyre/Getty Images Entertainment/Getty Images
Jessica Alba's 10-Month-Old Son Makes His Family Holiday Card Debut
It's the most wonderful time of year, isn't it? The time of year where everyone you love is sending out their gorgeous (and sometimes silly) annual family photos for the holiday season. This includes actress, The Honest Company founder, and mother of three, Jessica Alba, whose 2018 family Christmas card just debuted online. This year, Alba's family has a brand new addition to their annual holiday card: 10-month-old Hayes Alba Warren! For his first holiday card, Hayes flashed a million dollar smile while wearing matching pajamas with the rest of his family — including big sisters Haven Garner, 7, and Honor Marie, 10.
So, what's the most difficult part of getting a family of five's holiday card made? According to Alba, who partnered with Shutterfly for her family's 2018 holiday card, it's making sure her husband, Cash Warren, has it penciled in on his busy schedule. "I think it's harder to get Cash to be available than anyone else," Alba told Romper with a laugh over the phone while chatting about the family card, which you can see in full below.
She added, "The week before I just try and coordinate to get the family photo on his schedule." It's clear that after 10 years of marriage, according to People, Alba definitely knows how to coordinate around her hubby's jam packed calendar.
But for Alba, holiday planning doesn't end with matching pajamas and a holiday family photo. In fact, her family's holiday traditions include a dinner party for nearly 100 people! Yes, really.
"We host a 60 to 80 family dinner every year," Alba shared when asked about her favorite family traditions. The good news? Alba isn't hosting a dinner of that size — "it's like a wedding," she says — on her own. "My dad and I cook a lot. My mom and I cook. It's about three days of prep, getting all the tablescapes together, renting everything, getting all the prep for the food, chopping all the stuff up, and then yeah, just making sure that it's all ready on time," Alba explained, giving the shorthand version of all the work involved in her massive annual dinner party.
Despite all of that hard work, Alba admits that for "a couple of years" dinner has been "late" due to some "messed up" timing on the turkey. But considering the great lengths Alba and her family go to to treat their loved ones each year, I'm sure they don't mind eating a little later than scheduled.
One thing she's also fond of this year is Shutterfly's Storybooks, which are personalized stories that make a sweet and thoughtful gift for children and families alike. For Alba, who loves making "a personalized gift," the storybooks are a no-brainer.
Ultimately for Alba, the holidays are all about family — something that is made obvious by her love of an annual holiday card and massive family gatherings. As she explained it to Romper, these holiday traditions were instilled in her as she was growing up, and now she's doing the same for her three children.
Season 2 of Doula Diaries shares the stories of fearless doulas helping their clients take control of their births and make tough choices that feel right to them. Watch the first episode of the new season Monday, November 26th.