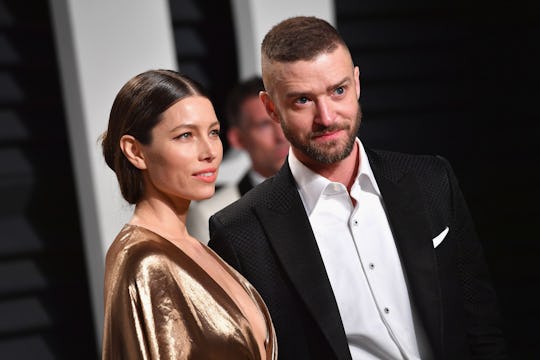 Pascal Le Segretain/Getty Images Entertainment/Getty Images
Jessica Biel's Birthday Message To Justin Timberlake *Oozes* Couple Goals
If you ripped out pictures of Justin Timberlake from a Teen People magazine in 1999, you aren't alone. A lot of people did it when the *NSYNC singer reigned over the radio stations and televisions. But one lucky woman, Jessica Biel, got to make that "poster on the wall" her reality. If you were a huge *NSYNC fan, then you know that today is Timberlake's birthday — and Biel's birthday message to Timberlake not only is the cutest thing alive, but will make you super jealous of their relationship in the best way possible.
Timberlake is not only a former boy band member, current birthday boy, and husband but he is also a father to a 2-year-old son, the halftime performer at this year's Super Bowl that's happening this weekend, and also has a bunch of new music coming out this year. Needless to say, Timberlake plays many roles in his life. But perhaps one of his best roles is being the husband to Biel, who wrote Timberlake the sweetest birthday note, ever, on Instagram on Wednesday. Biel detailed in the photo's caption everything she loved about her husband (spoiler: it's all about his dad abilities) that will pretty much make you fall in love with him, too:
Here's to a spectacular year ahead. I'm so proud of all you've accomplished and all that is ahead for you. Plus you're a super hot dad. A ninja dad. A kiddie teeth brushing, Jedi sleep mind tricking, intimidating dad disciplining SUPER HOT DAD. I love you, you hot dad.
Biel also cites herself as his number one fan girl in the photo's caption, but my former classmate who scrawled "Mrs. Timberlake" over and over again in her trapper keeper notebook (OK, that was me) begs to differ.
OK, so Timberlake has been off the market for a while — so if you can't admire him in the "future spouse" kind of way that many people did years ago. But you can at least admire his and Biel's relationship as husband and wife and as parents. Despite the fact that both Timberlake and Biel were respective teen idols in the '90s (Biel starred on your favorite family drama on The WB, 7th Heaven) they did not meet until 2007, according to TODAY, when they connected at the Golden Globes. Timberlake revealed in 2012 that he reached out to her shortly after on the phone, but "had to be pretty persistent to get her to say yes," according to TODAY. In 2012, Timberlake and Biel got married in Italy, where he sang to her as she walked down the aisle, according to People (um, talk about goals).
In their days of wedded bliss, both Timberlake and Biel have expressed their appreciation for one another on Instagram, and Biel has gushed about just how great of a partner Timberlake is. For example, Biel told Good Morning America in 2015, according to People:
He supports everything that I do. And that's why I think he's such a wonderful partner. And we should just be able to talk and laugh and learn together.
Mr. and Mrs. Timberlake really learned a lot together when they welcomed their first child, a son named Silas, into the world in 2015. Biel has since called Silas "a mini version" of her husband, telling People in 2016 "they're like the same person." So cute. Timberlake himself has cited Silas as an inspiration behind his new album, Man of the Woods.
During an interview with radio host, Zane Lowe, according to People, Timberlake revealed that Silas means "man of the woods," thus the title of his album, Man of the Woods, was born. Timberlake told Lowe, according to People, that he second guesses himself when it comes to parenting and every day is something new. "I feel like the success of parenthood is feeling like I failed all day today, but I get to wake up tomorrow and do it again...and hopefully they turn out to be a good human being," Timberlake said.
If you weren't into Timberlake when he was a teen idol, then Timberlake as a father and husband is just as desirable.
Check out Romper's new video series, Romper's Doula Diaries:
Watch full episodes of Romper's Doula Diaries on Facebook Watch.