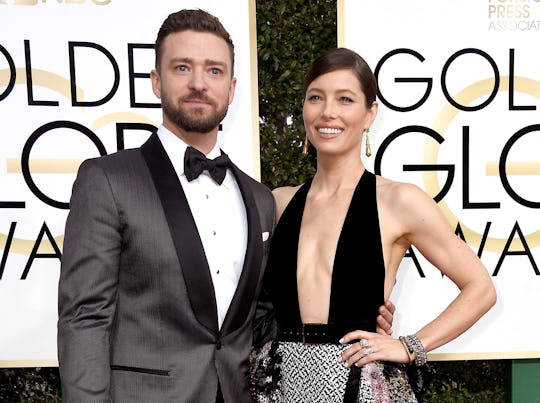 Frazer Harrison/Getty Images Entertainment/Getty Images
Jessica Biel & Justin Timberlake's Son Was Like Every Kid In The Louvre
Justin Timberlake and Jessica Biel are two pretty cultured people who just so happen to be parents to their young son, Silas. Timberlake, an award winning singer and Biel, an actress, are clearly used to be around fine art, acting, and music. But it might take Silas a little bit more time to come around to that stuff. In a new interview, Biel revealed that her and Timberlake's son was like every kid in the Louvre after they took him there on a recent trip to Paris, France — uninterested, unhappy, and a little annoyed.
During an appearance on Late Night with Seth Meyers, Biel revealed to the show's host, Seth Meyers, that she had taken her three year old son with her to the Louvre (one of the biggest art museums in the world, according to History) during a recent stop in Paris during her husband's world tour, according to Us Weekly. Although this trip to the museum might have sounded like a good idea in theory, a three year old and art are two things that don't necessarily mix because things tend to get messy — even when the art is hung up on the walls.
"We're at the Louvre, and we're looking through all of the most incredible old painters and the paintings," Biel told Meyers. "I'm like 'Look, look! This is important!'"
But, like most little kids, Biel said that Silas was more interested in other, less important things.
Biel explained to Meyers:
He's got his iPad and he's literally giving me the meanest face, just like "Ugh! You are so boring. Leave me alone!" And I have a picture of him, in his stroller, with his legs kicked up and his iPad and this beautiful painting behind him, not caring at all, not absorbing it.
Although the Louvre is the home to some legendary paintings from artists like Michelangelo, Rembrandt, and DaVinci, you can't blame Silas for not being that interested. As much as parents would love for their children to appreciate the more sophisticated things in life, such as fine art, the Mona Lisa just isn't as entertaining as a show like Daniel Tiger's Neighborhood or a super entertaining iPad app.
Many people do suggest that the Louvre isn't suitable for young kids, according to Family Twist, based on the sheer size of the museum and the amount of visitors. But, with a little bit of planning, it is feasible to go to the Louvre with young kids and enjoy the words of art. So, Biel definitely meant well by bringing Silas there, even if he wasn't too impressed.
Although art might not have been any interest to their son, Biel revealed during an interview with TODAY on Thursday that Silas was interested in other parts of their international vacation, according to People. "He now knows what the Eiffel Tower is and that's something that he loves," Biel told TODAY host, Savannah Guthrie. "He wouldn't have these experiences if we weren't able to just get out there and go for it."
Just because Silas isn't currently interested in art doesn't mean that he doesn't have interests of his own. In 2016, Biel told People that Silas loves watching the Golf Channel with Timberlake, according to InStyle and has become pretty invested in the sport. Silas also must have a natural interest in music with Timberlake as his dad — especially since he leant his voice to one of Timberlake's songs from his most recent album, Man Of The Woods, according to PopCrush.
But that isn't to say that Silas won't come around to liking fine art, eventually. He is only three, after all, and a lot of three year olds don't understand the significance of a work of art like the Mona Lisa. However, it's safe to assume that he didn't blow his only chance at looking at some super famous paintings in real life.
For as long as his dad is an international pop star and his mom is an actress, people can assume that Silas will have plenty of opportunities to go back to the Louvre — especially at an age where he can understand the significance of the museum.