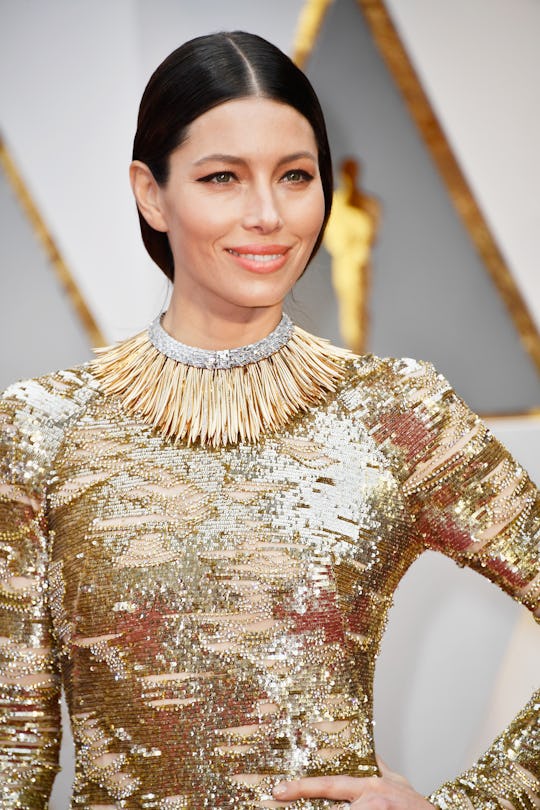 Frazer Harrison/Getty Images Entertainment/Getty Images
Jessica Biel Looks Like An Oscars Statue
With the Academy Awards arrivals well underway, the annual critiquing of Red Carpet styles has likewise begun. One star's wardrobe choice is getting her some pretty meta comparisons. Jessica Biel looked like an Oscar statue at the 2017 Oscars, according to Twitter — a really gorgeous Oscar statue anyway.
The actress arrived on the red carpet with her husband, singer Justin Timberlake, in a stunning gold metallic KaufmanFranco gown and equally incredible (and perfectly matched) Tiffany Blue Book necklace. Timberlake, who performed in the ceremony's opening act, called his wife's look "perfection," but the internet thinks she looked a little statuesque... Oscar statuesque, that is.
If you grew up in the '90s, you probably remember Biel from her starring role as Mary Camden on the family-friendly drama, 7th Heaven and Timberlake as singing, dancing, frosty-haired, boy band royalty as a member of NYSYC. The two first went public with their relationship back in 2007, after Timberlake split up with Cameron Diaz, whom he'd dated for four years. Timberlake and Biel were kind of on-again, off-again for the next few years, and the Hollywood rumor mill and tabloids had plenty of fodder trying to figure out if they were together or not.
The couple did split for a while in 2011, but when they got back together it was for real: they married in a gorgeous Italian resort in the fall of 2012. Last year the couple welcomed a baby boy, named Silas, and Timberlake's comments on first-time parenthood were completely relatable:
It changes everything. You literally just wake up in the morning, look in the mirror and go, 'I have no idea what I'm doing.'
Biel told PEOPLE that while 21-month-old Silas is "charming" and probably inherited "the entertainment gene" from his parents, she doesn't want him to go into the family business:
. . .it's such a challenging existence being an artist. It's hard. I just want him to be happy, whatever he does.
Even though Silas might be young yet for making Red Carpet appearances, his parents have been busy: Biel just starred in The Book of Love alongside Jason Sudeikis, and Timberlake just won his 10th Grammy last month. With all the revivals and reunions we've been getting lately, there's no sign that we'll be seeing the cast of 7th Heaven reunite, but fellow NSYNC bandmate Lance Bass did get fans' hopes up when he sort-of told Entertainment Tonight that there could be a reunion of the band in 2017. Unfortunately, NSYNC's official Twitter responded by saying his comments were taken out of context — but that they're grateful for all the love anyway.