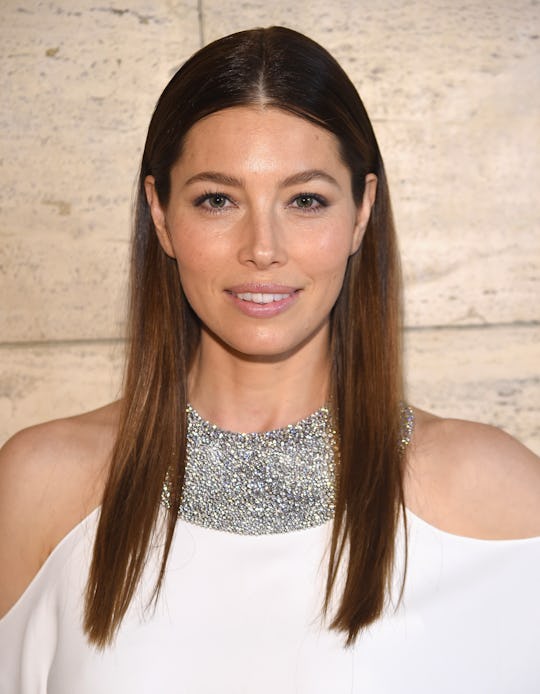 Jamie McCarthy/Getty Images Entertainment/Getty Images
Jessica Biel Posts 'I Voted' Sticker Insta & Calls Out Her Husband's Polling Booth Gaffe
Remember when Justin Timberlake, apparently unbeknownst to him, broke the law by taking and posting a selfie in a voting booth in Tennessee last week? Well, he may be legally off the hook for his selfie blunder, but that doesn't mean he's completely off the hook with his wife. In a perfectly timely post on Monday, Timberlake's partner, Jessica Biel, posted her "I Voted" sticker to Instagram and called out her husband's polling booth gaffe at the same time, like a pro. Nicely done.
Biel posted a photo collage of herself sporting enthusiastic smiles with the "I Voted" sticker making appearances in each photo. The photo itself is clearly an effort on her part to express, and encourage, enthusiasm about voting. But it's the caption that really says it all. Biel teased her husband's voting ordeal which could have technically cost him jail time:
When you're so turnt up about voting that you do a photo shoot with your sticker and think it's cool but then second guess it, but you've already posted, but at least you waited to get home before snapping so you won't almost go to jail, shout out to [Justin Timberlake].
Perhaps Biel felt it was safe to joke about his selfie-gone-wrong, considering the Tennessee Shelby County District Attorney General Amy Weirich said in a statement recently that Timberlake's voting selfie will not be investigated.
"No one in our office is currently investigating this matter nor will we be using our limited resources to do so," the statement read according to CNN.
Timberlake traveled from California to Tennessee, his home state, to participate in early voting. In a now-removed photo Timberlake published to his Instagram account, the singer posted a ballot selfie with a caption encouraging his fans to vote reading, "...No excuses, my good people!.. There could be early voting in your town too. If not, November 8th! Choose to have a voice!..."
But Tennessee is one of the states where ballot selfies are illegal – and as CNN reported, in Tennessee it's considered a misdemeanor crime punishable by 30 days in jail and/or a $50 fine.
Thankfully for Timberlake, there's not an investigation underway for his ballot selfie – so the jokes may likely continue. But the "Suit & Tie" singer appears to be a good sport about the whole debacle.
On the Tonight Show with host Jimmy Fallon last week, Timberlake looked directly in to the camera and said "...get out and vote... but don't take a picture of yourself..." His warning to viewers came after he joked that his early vote went down in a "super quiet" and "under the radar" fashion.
Timberlake also appears to appreciate his wife's joke on Instagram, he even reposted her light-hearted dig to his Instagram page.
Only time will tell how long Timberlake will live his voting-booth-selfie-gone-terribly-wrong down. But for now, at least Biel is having a great time with it.