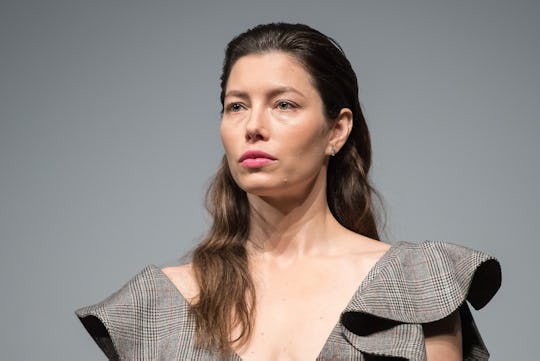 Mike Pont/Getty Images Entertainment/Getty Images
Jessica Biel's Comments On Motherhood Are Relatable AF
Jessica Biel is one awesome lady. Wife, mother, actress, and down-to-earth Queen of Twitter, the superstar is also a spokesperson for how motherhood changes you. More specifically, Jessica Biel says motherhood made her more sensitive to the world, and she's totally right. Speaking to E! News at the Tribeca Film Festival premiere of her new USA show, The Sinner, the mom of 2-year-old Silas Randall Timberlake spoke about how supportive her husband has been to her. And how much more she feels, now that she's a mom.
Motherhood really "informs everything in your life," she said. "I'm more emotional, more sensitive, more everything to the world." And honestly, that makes total sense. Biel also said that now, after being a mom toddler Silas, she feels like she can handle pretty much any chaos that's thrown her way. "I just feel like I'm always ready for anything and everything at this point," she said. And with the upcoming premier of The Sinner this August, it's clear that Biel has been juggling a lot lately.
However, despite her success, and her seriously talented husband, Biel remains humble, relatable, and honest. And while her character in The Sinner may be a bit darker than Biel herself, she remains grounded in reality, with the help of her family of course.
Telling E! about her husband's role in helping her balance her latest role with mommy duties, Biel said, "he supported me from the very beginning. He's excited because I'm excited." The Sinner, a limited series, centers in on Biel's character, Cora Tanner, as she "commits a startling act of violence and to her horror has no idea why," according to the show's website. Biel's character is also a mother, although one with a little bit of a darker side.
Speaking with other reporters at the Tribeca Film Festival, Biel explained how she was able to connect with such a troubled character. "You just have to go really deep within yourself I think as a human being," she explained, "and find what you can relate to in this person that has this ability to, you know, act on her passions, or act on her anger or fear or insecurity or pain."
But despite her recent portrayal as a disturbed young mother, Biel continues to crush the mom game in real life. And when she was informed of her son's recent crowing of the "best man bun" by Vogue, she laughed.
"He has a very epically good man bun," she confirmed.
And she's right. But little Silos also has some epically good parents, to be honest.