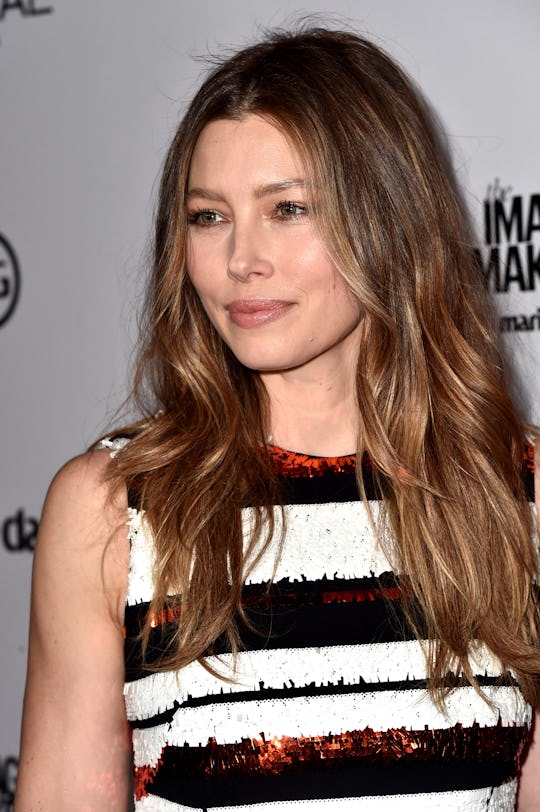 Alberto E. Rodriguez/Getty Images
Jessica Biel Shared A Photo Of Silas, & It Is Such A Mom Moment
Her life may be approximately a million times more glamorous than the average woman's, and her skin might also look annoyingly flawless without makeup, but Jessica Biel shared a photo with her son Silas on Instagram Thursday, and it's the type of moment pretty much all moms everywhere can relate to. According to the Daily Mail, the pic accompanied a short Q&A she had with TheSkimm about her morning routine. In the super sweet pic, a freshly-showered Biel looked to be trying to get ready for her day (completely with the requisite towel-wrapped hair), while her 10-month-old son with husband Justin Timberlake wriggled around on her shoulder.
In the short interview, Biel talked about being an early riser, drinking Bullet Proof Decaf Coffee (decaf? Seriously? I definitely cannot mom without caffeine), and what she does every morning (hint: it involves Silas and Eryka Badu). She also shared that she usually wakes up, "disheveled, running late, doing too many things at once and underperforming all of them," which, let's be honest, feels strangely validating. I mean, if Jessica Biel has trouble getting her act together in the morning, then I don't feel quite as bad about my own early-morning mom-chaos.
Biel and Timberlake are a famously private couple, and don't often share photos of their son, but it's fun to see him getting bigger and more active when they do. And even though it's a silly photo, it's also totally heartwarming — one of those sweet moments when you realize just how different having a baby has made normal, everyday stuff like getting ready in the morning.
In addition to her mom duties, Biel is also involved in supporting the non-profit organization WomanCare Global. According to Glamour, Biel teamed up with Sandra Pelletier to launch a series of web videos aimed at young women, discussing topics like menstruation and puberty, with the goal of helping them understand their bodies without shame or embarrassment. And judging by her Twitter account, Biel totally walks the walk: she regularly tweets about birth control, sex myths, and vaginas (body positivity, for the win!).
All things considered, Biel seems like one surprisingly down-to-earth celeb mama. Anyone else want her as a mom-BFF? Because I totally do.