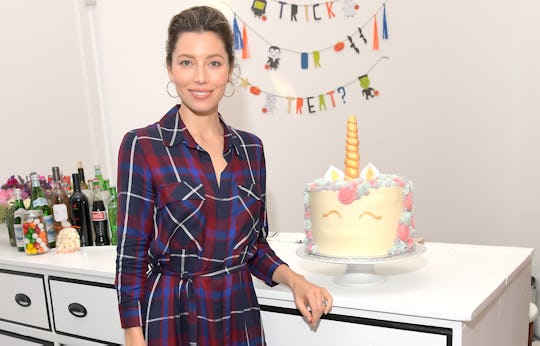 Charley Gallay/Getty Images Entertainment/Getty Images
Jessica Biel's Views On Parenting Will Make You Go "Same" (& Her Kids' Camp Is Goals)
I realized I had been pronouncing "Au Fudge" wrong when I heard it said out loud. I was doing it with a sort of French accent — a la oeuf ferdge — but you say it, "Oh F*dge," like you're Mary Camden tossing off a swear in front of the Reverend on 7th Heaven, the wholesome family show Jessica Biel starred in for seven seasons. Lucy Camden would have just said f*ck, but that's neither here nor there. Along with her business partners, Biel just launched Au Fudge CAMP, a play space in West Hollywood, California, that branches out from the highly Instagrammable restaurant Au Fudge. It's the kind of place where tots and young kids can take DJ classes (for kids whose father isn't Justin Timberlake), do tumbling, try the zip line, or turn their hand to art surrounded by furry poufs and blond wood furniture that makes you think our children will be far superior beings to those of us raised in dusty ball pits.
"I have a two-and-a-half year old, and we were just saying Los Angeles is a city that has more things to do for dogs that it does for kids," Biel tells Romper. It's a world that caters to growns. Biel's business partners, who became parents before Biel had her son Silas, had the idea for the original Au Fudge restaurant. They were "tired of not having a place to go with their families," she explained in a video tour.
The original Au Fudge restaurant and event space provides a sort of baby concierge service, where you can drop your kid with the Au Fudge au pair then hit up the [again, highly Instagrammable] bar, but Au Fudge CAMP flips the emphasis somewhat, so that the space itself is the attraction.
Yes, there are trampoline parks and fairs to go wild at, but, explains Biel over the phone to Romper, "We see a massive need for families to come and learn and get the energy out and get creative and also be social." A space that is dedicated to helping kids interact and create is what's lacking, she says. "Kids need to be social, that's a huge part of what they need while they're growing."
Get to know each other on a deeper level than just, 'I'm your mom, do what I say, go to bed, get up, go to school, get dressed.' — Jessica Biel
Listening to Joey Gonzalez, one of the founders of Au Fudge CAMP, list off the programs that will be available, I find myself wishing I was 3. Life just feels so crazy as a parent, don't we all deserve an hour's imaginative creative play?
I ask Biel if there is any part of that candied 7th Heaven vision of familydom that she wishes to hold onto for her own family, husband Justin Timberlake and son Silas. That vision of a family of nine each with flat-ironed hair sitting around a table is, she acknowledges, endangered. "I think overall what we're struggling hard against is the disintegration of those old family values, and they're simple," she tells Romper. "It's sit down for dinner, have a conversation, get to know each other on a deeper level than just, 'I'm your mom, do what I say, go to bed, get up, go to school, get dressed.'"
You know I feel like all I do all day is tell [Silas] what to do. I boss him around. —Jessica Biel
Biel is not the kind of person to rock the mom-as-best-friend parenting approach, and I feel her exhaustion with being the core teacher and model for a 2 year old. "You know I feel like all I do all day is tell [Silas] what to do," she tells Romper. "I boss him around, but the one of the values I'd like to foster in my life is ... becoming someone who knows their kid, and not just someone who tells them what to do all the time, I don't like that for myself."
The play space then, is built around facilitating that knowledge. Child-led play allows kids to focus on the activities that spark excitement in them — it's not the saddo camp you remember from childhood, where you pinged a shuttlecock back and forth over a net for hours while asking, "why are we not using a ball like normal people?" For kids two and under, a parent or caregiver must be present; for adults generally, the space is designed to be appealing. "It doesn't look like primary colors threw up everywhere," explains Gonzalez. "It's somewhere an adult would love to chill." Our kid's Instagrams, I note, are going to be vastly cooler than our own.
The classes are available as $35 drop-ins, or for purchase as 10-week courses. Romper enquired about low-income or diversity initiatives, to which Gonzalez replied, "That's a great idea! We should do that!"
Biel strikes me as down to earth, and focused on building a meaningful childhood for her son. It's worth noting that her husband, Justin Timberlake, found fame through The Mickey Mouse Club, a child-star factory that also produced Britney Spears and Christina Aguilera. Au Fudge feels distinctly unlike a celebrity's fantasy camp. Biel laughs on the phone as music begins blaring over the speaker system at CAMP. "Can you hear that?!" she apologizes, probably while nibbling on a whimsical unicorn cake.
"Ha ha yeah," I say, I fudgen wish I was there.
Au Fudge CAMP provides seasonal and drop-in programs for children aged 6 months to 10 years old and is located at 1106 N La Cienega Blvd Suite 105, West Hollywood CA 90026. Phone: (424) 288-4622