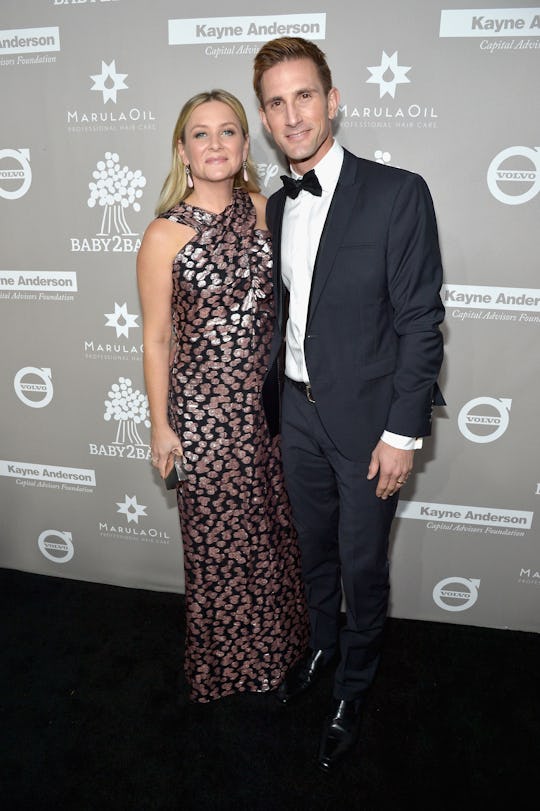 Charley Gallay/Getty Images Entertainment/Getty Images
Jessica Capshaw Has Her Baby & Its Name Is Super Adorable
Attention Grey's Anatomy fans: There's a new baby in the picture, so you'll need to set aside what you're currently doing and flip out with the rest of us. On Monday night, actress Jessica Capshaw announced that she'd had her baby, a tiny tot by the adorable name of Josephine Kate Gavigan, back on May 2. The little girl is Capshaw's fourth with husband Christopher Gavigan, a businessman who serves as the co-founder of the Honest Company.
Baby Josephine joins brother Luke Hudson, 8, and sisters Eve Augusta, 5, and Poppy James, 3. Capshaw announced the happy news in a post on her personal Instagram with the caption, "Josephine Kate Gavigan <3 May 2, 2016. I am endlessly grateful for her safe arrival and my heart is so full of love that it threatens to burst...."
The actress first announced that she was pregnant back in December, taking to her personal Instagram page once more to reveal the news. "The holidays have certainly arrived," she wrote in the caption of the sweet family photo. "All of our lives are being added to by the lights, music and the cheer!! This year our family has reason to further broaden our smile...baby number four is on the way!! I am a lucky, lucky girl..."
In her big announcement on Monday evening, Capshaw included a photo of the baby, which was dressed in a tiny (and so-cute-it's-ridiculous) knit-cap, dozing like a champ. As of yet, Capshaw hasn't stated a reason for choosing the sweet moniker "Josephine," but given how gracious she is with her fans about family life and her kids, she may very well come forward with an explanation later on.
Capshaw has previously been open about the challenges of pregnancy, sharing a few humorous tidbits from time to time to keep things light. In an interview with People back in April, Capshaw joked about a recent dinner she'd had with a friend, saying that she'd been given a few perks due to her then very obvious bump:
I was with my girlfriend at a restaurant and we didn't make a reservation and there was a wait for 30 minutes. My girlfriend and I were standing there and the manager came back like a minute later and was like, "No, no. We found a table for you." It was like the best table in the restaurant. My girlfriend looks at me and is like, "Man this whole Grey's Anatomy thing totally pays off," [but] I was like, "Guess what! Don't think that has anything to do with it." I'm a liability looking this pregnant, standing at the front of a restaurant waiting for a table. I have a couple more weeks to enjoy the first-of-the-line status.
Capshaw added that she was more of an "'any-minuter" that would go into labor at the slightest provocation. "I'm an 'any-minuter,'" she said. "I'm the person that makes people very nervous! I've had more people offer to help me downstairs today than my whole life."
Despite the stress of handling four kids and an "any-minute" pregnancy, Capshaw has managed to find the real beauty of a being a mom. "[The best part of my day is] when my son gives me a hug out of nowhere and I ask why," she told Good Housekeeping back in 2011. "He says, 'Because you're my love nugget.' I love the surprise element of being a mom."
It's a good thing Capshaw and her husband have found such an easy balance between exciting careers and an even more exciting family life — with little Josephine joining the Capshaw—Gavigan brood, things are only going to get lively.