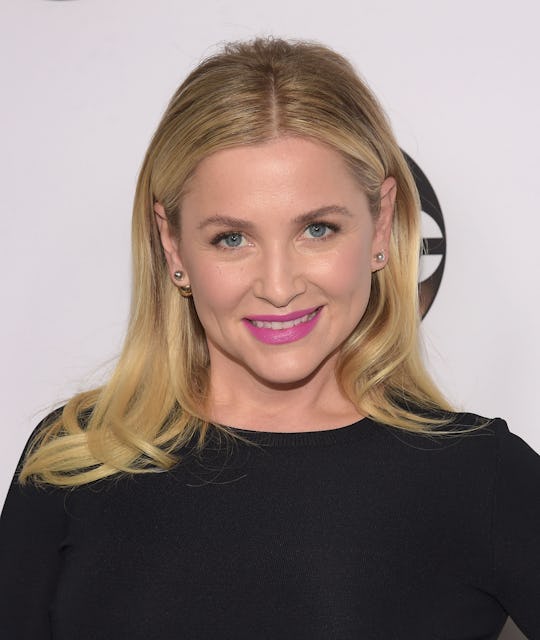 Jessica Capshaw Is Pregnant, & Here's Why Working At 'Grey's Anatomy' Will Likely Benefit Her
Over the weekend, a Shondaland favorite made a sweet holiday announcement: Grey's Anatomy star Jessica Capshaw is pregnant with her fourth child. Capshaw, who plays plays pediatric surgeon Arizona Robbins on the hit ABC drama, made the announcement in an Instagram post to her fans over the weekend. "The holidays have certainly arrived," Capshaw wrote. "All of our lives are being added to by the lights, music and the cheer!! This year our family has reason to further broaden our smile...baby number four is on the way!! I am a lucky, lucky girl." The 39-year-old actress and husband Christopher Gavigan are already the parents of three adorable youngsters: daughters Eve and Poppy, and son Luke. So far, there's been no word on when the family's newest member is due to make his or her premiere appearance.
As any mom would attest, juggling kids and a career can be a challenge, but Capshaw is in a more enviable position than most. Not only is she a highly successful television actress, she works for Shonda Rhimes, an incredibly successful businesswoman who has been an active and vocal proponent of abandoning the guilt and anxiety surrounding motherhood.
If you're going to be a working mother, having Shonda Rhimes as a boss might just be a dream scenario.
Clearly, working for television powerhouse Shonda Rhimes would be a dream gig for most television actresses. Rhimes is the creator and producer behind three of the most popular, highly acclaimed dramas on television right now: ABC's Grey's Anatomy, Scandal, and How To Get Away With Murder. But the part that would benefit Capshaw — and indeed, any of Shondaland's many working moms — is that Rhimes has also been quite vocal about her own quest for the ever-elusive balance between motherhood, career, and her own identity.
Rhimes took a solo path to becoming a parent, choosing to adopt two daughters and have a third via surrogate. And as a single mother to her daughters, it hasn't all been pretty. In a speech to Dartmouth graduates in 2014, Rhimes explained why "doing it all" is simply impossible:
Whenever you see me somewhere succeeding in one area of my life, that almost certainly means I am failing in another area of my life. If I am killing it on a Scandal script for work, I am probably missing bath and story time at home. If I am at home sewing my kids' Halloween costumes, I'm probably blowing off a rewrite I was supposed to turn in. [...] If I am succeeding at one, I am inevitably failing at the other. That is the tradeoff. That is the Faustian bargain one makes with the devil that comes with being a powerful working woman who is also a powerful mother. You never feel a hundred percent OK; you never get your sea legs; you are always a little nauseous. Something is always lost. Something is always missing.
And in her recent memoir, Year of Yes, Rhimes discussed her own experience growing her career and her family. According to a Vogue book review, one passage in Rhimes' book recounts her thoughts when the head of the PTA at her children's school insisted that all items for a bake sale be homemade: "Are you f*cking kidding me?" The single mother of three daughters continued: "It's not about working moms vs. non-working moms. It's about people who love hot-gluing beads on capes vs. people who do not even know what a hot-glue gun is."
In another passage, Rhimes wrote about the notion of motherhood as a job. It isn't a job, Rhimes wrote, and calling it a job actually belittles the responsibility.
Like any growing family, Capshaw and her family will face lots of transition as they prepare for their newest addition. Still, any working mom would have to rejoice just a little bit on hearing that her boss actually knows what it's like. As if we needed one more reason to wish we were part of Shondaland!
Images: Jessica Kempin/Getty Images; jessicacapshaw/Instagram