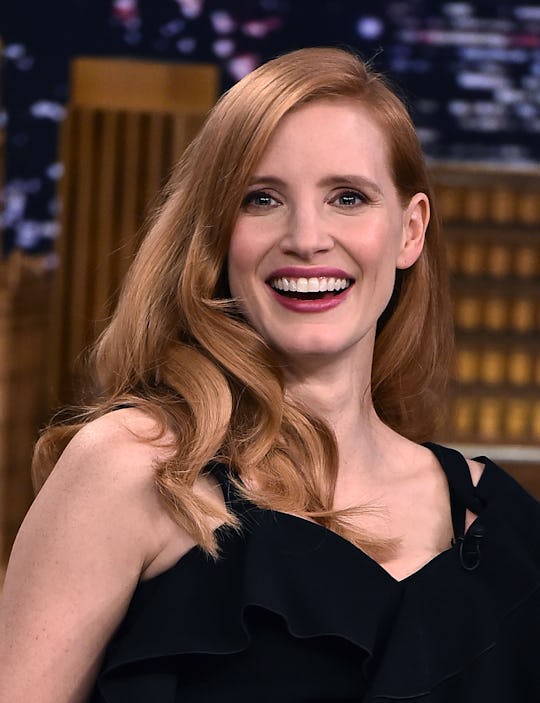 Theo Wargo/Getty
Jessica Chastain Honors The Women's March On 'SNL' In A Must-See Opening Monologue
I'll admit, I was excited when I learned that Jessica Chastain was going to be hosting Saturday Night Live, especially since it fell on the day of the Women's March, and especially since she has been such a vocal feminist force. And based on her opening monologue, I was not disappointed. Jessica Chastain honored the Women's March on SNL with a musical anthem that you really need to hear. Because it was both entertaining and joyfully empowering. With some help from the female SNL cast members naturally.
Chastain opened her monologue with acknowledging that she's not exactly the most obvious choice for hosting the sketch comedy show. After all, Chastain tends to play powerful and definitely not-to-be-messed-with women (part of the reason I adore her). "I never get to do stuff like this because I'm always cast as a strong, powerful woman," she lamented, while adding, "I usually say lines like, 'Take the shot, damn it.' When am I gonna get to play the naggy girlfriend and say something like, 'David!'" Which she pronounced in a frustrated, petulant tone, might I add. But the best part of her monologue came after she shouted out the feminist cause. "But I'm really excited to be here especially today because this weekend is the one year anniversary of the Women's March," she said.
I'm not usually a fan when hosts do a musical number in lieu of an actual monologue, but this is an exception. Lamenting the fact that she wasn't able to march this year, immediately Kate McKinnon and Cecily Strong appeared on stage wearing "Time's Up" and "Me Too" t-shirts respectively. "Hey we'll march with you," said Strong, while McKinnon added, "I'm always wearing practical footwear." The three then launched into their own rendition of "You Don't Own Me," which was surprisingly great. I honestly thought I wouldn't be able to hear that song again after having it repeated so many times last year. I was wrong.
Of course, these three women were not the only performers on stage to represent women's rights right there on Saturday Night Live. The camera panned over to Aidy Bryant, wearing one of *those* pink knitted beanies. "I am so excited we're doing this," she gushed. "I got us all P-hats! I can't say the real word cuz it's just one of those many words that only the president can use." Cue Leslie Jones walking by to grab a hat and say, "You mean p*ssy hat?" I love everything about this.
I also loved when Beck Bennett and Pete Davidson dropped by, in an effort to be male allies. "We wanna march too," said Bennete. "Yeah we love women!" added Davidson. Chastain thanked them for being allies and right as Bennett was about to launch into a monologue about the "man's role" in the situation, Strong interrupted and Bennett quickly amended with a "Yeah, you don't need us," and they scurried off stage. This was maybe my favorite moment, if only because it was such a clear message. Hey dudes, thanks for your support, but we really need you to take a back seat on this one. Thanks guys.
Chastain finished up by exclaiming that we were strong last year and we'll be even stronger this year. I really love that Chastain is using her platform on SNL to further the cause for women. I want nothing more than for this feminist momentum to continue. Feminism is definitely having a "moment" but it would be really great if this moment could keep it moving so maybe we won't have to keep protesting this stuff for much longer.
Check out Romper's new video series, Romper's Doula Diaries:
Watch full episodes of Romper's Doula Diaries on Facebook Watch.