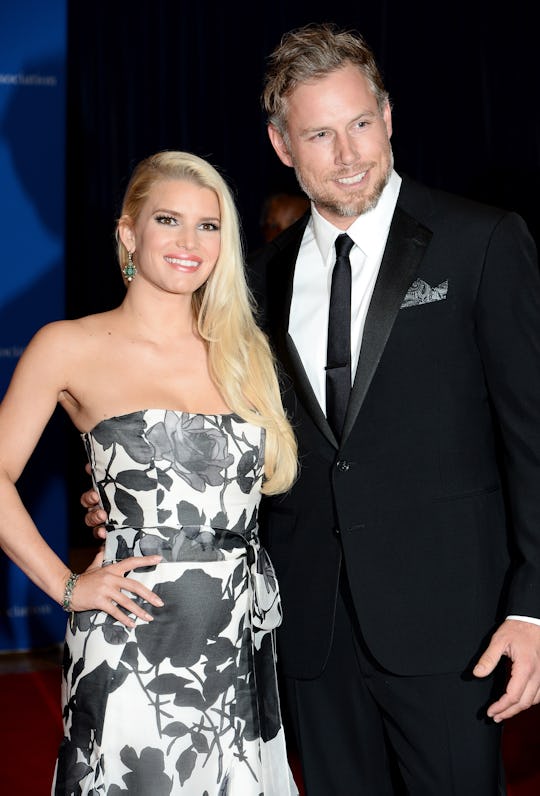 Dimitrios Kambouris/Getty Images Entertainment/Getty Images
Jessica Simpson & Eric Johnson Announce Baby #3 Is On The Way In Super Sweet IG Post
It looks like congratulations are in order for Jessica Simpson and Eric Johnson! The famous couple already have two children together — a daughter named Maxwell and a son named Ace — and it looks like they'll soon be adding another little one into the mix. That's because Jessica Simpson and Eric Johnson announced baby number three is on the way in a super sweet Instagram post. (Spoiler alert: There's a sex reveal, too!)
As People reported, Simpson posted a pair of photos on Instagram on Tuesday, Sept. 18 that said it all. In the first photo, Maxwell and Ace are each holding giant, black balloons while posing and smiling for the camera. Simpson captioned the shot simply with, "SURPRISE…" The very next Instagram post features another photo of the siblings — except one of the giant balloons has been popped, revealing smaller pink balloons that were inside! "This little baby girl will make us a family of five," the expecting mama captioned the photo. "We couldn't be happier to announce this precious blessing of life."
Aww! Guys, I don't even keep up with the singer/designer much these days, and even I'm tearing up at how freaking sweet this is.
Judging by the response on Simpson's Instagram, fans are pretty darn excited about this double-whammy pregnancy announced/gender reveal. (So many heart emojis.) One Instagram follower wrote, "Congrats Jess 🎉🎉💕💕What a blessing 🙏🏻🙏🏻 So happy for you & the family! Love y'all 😘😘"
Another follower commented, "Congratulations @jessicasimpson!! I'm sooo happy for you. 🎈🎁🍾🎉🎂."
Yet another person chimed in with, "Congratulations!! All the best to you and your precious family god bless💕💕💕."
Another Instagram follower wrote, "Congratulations welcome to the party of five. Or a fun and beautiful wild ride. 😘"
According to ET Online, Maxwell is 5 and Ace is 4 — so Simpson had a "two under 2" situation on her hands for a little bit, there. With this in mind, it wasn't too surprising that back in 2015, the mom of two very little ones was adamant about her family being complete. "No more kids on the horizon," she told ET at the time. "That would freak me out a little bit." Clearly, she's had a change of heart now that her kiddos are a little older.
Although news of baby number three is undoubtedly a happy surprise for fans, it's not the most shocking thing in the world that Simpson would want to add to her family. In May, she gushed about how rewarding motherhood is, telling Us Weekly, "Being a mother is the best opportunity and challenge I've ever been blessed with in life." She continued:
Right now my kids are in this amazing stage where I'm really listening to them without judgment and they're teaching me so much," she said. "These little innocent kids teach me so much about life.
As a mom of three kiddos — and baby number four on the way — I feel as though I have an obligation to issue a warning to Jessica Simpson and Eric Johnson: Three kiddos definitely challenges your multi-tasking skills to the max. All of the sudden, you go from man-on-man defense (one parent per kid) to zone defense. The transition period can be a beast, for sure.
At the same time, though, I feel as if that third child is a "gateway drug" to an even larger family. Because either three kids is so overwhelming that you couldn't possibly dream of juggling even more. Or you end up like me — getting a taste of what that large family life is like, and figuring, "Meh, one more couldn't be that much crazier."
Whether or not this is their last child, I wish Simpson and Johnson the best of luck as they continue along their journey toward becoming a family of five. It may be crazy at times, but I know I wouldn't trade it for the world. Congrats, guys!