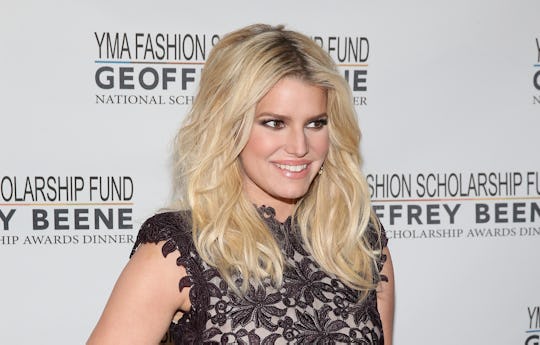 Neilson Barnard/Getty Images Entertainment/Getty Images
Jessica Simpson's Says She Cried More Than Her Son When He Broke His Arm, & Moms Def Relate
Parents don't ever want to see their child in pain, no matter what kind of pain it might be — emotional or physical. But pain is something that every person experiences, especially when it comes to young kids who break their bones for the first time — which, singer, designer, and mom of two, Jessica Simpson, learned for herself. In a new Instagram post, Jessica Simpson said she cried more than her son did after he broke his arm and her words are so relatable.
Simpson is learning the hard way about how resilient young boys can be and how they differ from their parents. Simpson is the mom to two children — 6-year-old daughter, Maxwell Drew, and 4-year-old son Ace Knute, according to People — with her husband, former NFL player Eric Johnson. Because her kids are so young, she is still figuring a lot out — like how to react when her child breaks their first bone. In the Instagram post, shared to her account on Tuesday, Simpson let her followers know that Ace had experienced his first broken bone. But instead of letting his pain get the best of him, Ace looked so happy in the photo, posing with his arm in a lime green cast.
"This kid is breaking more than hearts these days," Simpson captioned the photo, following up her comment with the broken heart emoji. But perhaps the funniest and most important thing about her Instagram post was the hashtags she used to describe her son's broken bone. "#FirstBrokenBone," Simpson added in the caption. "#ICriedMoreThanHeDid."
As tough as little kids may be, parents are naturally empathetic for the pain that their kids feel, so Simpson's caption is definitely something that parents can relate to. Sometimes the thought of knowing their kid might have been in pain is worse than the pain itself. And based on Ace's smile in the photo, his pain was the last thing on his mind when he broke his bone. But, the empathy that Simpson felt for him will pay off — one 2016 study conducted by the National Institutes of Health found that children whose parents exhibited empathy had better emotional regulation.
Children break bones all the time for a number of different reasons — broken bones, or bone fractures are the "fourth most common injury in children under the age of six," according to Healthy Children, most often as the result of a fall. While broken bones might look painful to parents, and the cast so constricting, according to Healthy Children, young bones are more flexible and are able to heal quicker with the help of a cast.
Fans took to the comments of Simpson's post to share their well wishes for her son and his injury. "Have a speedy recovery," one commenter wrote. "First of many, ohh the life of boys," another commenter added. "The mom struggle is real!," one commenter perfectly stated. Isn't that the truth?
But Simpson's first experience with one of her children breaking a bone is just one of the many lessons that her children are teaching her. In an interview with Us Weekly in May, Simpson revealed that, by being a mom, she learns something new every single day. Simpson said, according to Us Weekly:
Being a mother is the best opportunity and challenge I have ever been blessed with in life. Right now my kids are in this amazing stage where I'm listening to them without judgement and they're teaching me so much. These little innocent kids teach me so much about life.
And Ace's experience is just another lesson that Simpson will learn from. Although he might have looked like he was in pain, and Simpson felt sorry for him (resulting in more tears on her part), kids are resilient and will bounce back from their pain — and that's a lesson for the history books.