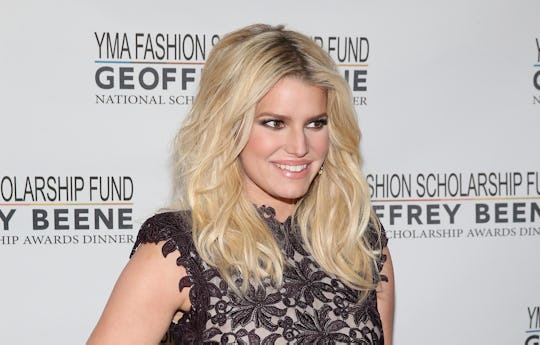 Neilson Barnard/Getty Images Entertainment/Getty Images
Jessica Simpson Says She's Done Having Kids
It's not always easy to come to terms with the end of your baby-making years, and some women never quite feel like they were ready for their youngest child to be their last. But during an appearance on The Ellen DeGeneres Show Monday, Jessica Simpson said she's done having kids, and that she's more than happy to remain a mom-of-two. According to People, Simpson told DeGeneres that unlike her two previous visits to the show, this time she wasn't pregnant — and that, thanks to her IUD, she didn't anticipate that changing anytime soon. When DeGeneres asked Simpson if she was sure she wasn't expecting, the singer joked "nothing is going to get into that uterus," and added that she had "two beautiful children, and [she's] not having a third."
One reason? Her kids are already just too cute. As photos of 5-year-old Maxwell Drew and 3-year-old Ace Knute popped up behind her on the screen, Simpson said that "you really can't top that." She also gushed about her relationship with husband Eric Johnson (whom she married in 2014), and told DeGeneres that he still gives her back massages every night — a tradition that began when she was pregnant and that has continued ever since.
She may no longer have babies on the brain, but one thing that has definitely kept Simpson busy lately? Planning her daughter's mermaid-themed fifth birthday party earlier this month. But while most little girls probably would have been more than happy with a cake and some mermaid decor, the billionaire fashion mogul mom took it one step further, and hired women in silicone mermaid tails to teach her daughter and her friends how to unleash their inner mermaid selves in the family swimming pool. In fact, Simpson told DeGeneres that the mermaid service was so elaborate that the women had handlers who would carry them around. Simpson quipped, "they had to be carried if they had to pee. They can't pee on my children in the pool!"
As big of a day as it was for Maxwell though, it may have been an even bigger milestone for Simpson, who clearly felt nostalgic as she took to Instagram to give her little girl a birthday shoutout. In a sweet throwback pic, Simpson posted a snap of her little girl getting her first bath in the hospital after she was born. But it seems she's definitely loving being the mom of a 5-year-old, too: in a separate post, Simpson shared a family photo taken at Maxwell's mermaid party, and wrote,
My baby Maxwell is 5 years old today. She makes everyone's life mermaid magical. Happy Birthday to our fairytale princess. Mommy, Daddy, and Ace love you with our 'holy hearts' (as Max would say). #MerMax #MAXIDREW #canyoube5forever
Even though there won't be anymore Simpson-Johnson babies running around if they can help it, judging by the star's social media accounts, they've already got plenty of love to go around between them as a family of four. In fact, while Simpson's Instagram account keeps her followers up-to-date on news from her fashion line and plans for new music, her kids seem to be the real stars of the show. And they've definitely got their posing game down already:
When a celeb family is this adorable, it does seem a bit sad to think there won't be anymore baby updates, or sweet photos of their growing family. But from the sounds of it, Simpson already has everything she could possibly dream of in her husband and two kids, and it makes total sense that she'd be happy to leave things just the way they are.