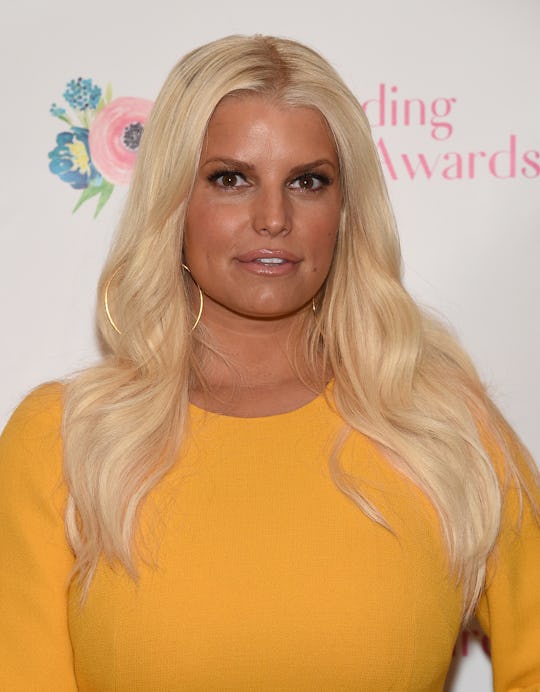 Dimitrios Kambouris/Getty Images Entertainment/Getty Images
Jessica Simpson's 7 Most Relatable Mom Moments On Instagram
When it comes to ultra-relatable celebrity parents, I have my short list of favorites. They include Chrissy Teigen, Kristen Bell, Jennifer Garner, Pink, Cardi B, and Jessica Biel. Whether it's Teigen pointing out the hilarity of the day-to-day challenges of motherhood, Bell not holding back about the hell that is mastitis, or Cardi B telling it like it is in regard to how her daughter "broke" her vagina — I can't get enough! However, I've recently learned that I need to expand my celeb-mom horizons. Because I'm seriously missing out on other parenting gems. Don't believe me? Let's take a look at Jessica Simpson's seven most relatable mom moments on Instagram. Because her posts are seriously on-point.
In case you've lost track through the years, Simpson and her retired professional football player husband, Eric Johnson, currently have two children together. (Their daughter Maxwell is 6, and their son Ace is 5.) However, in September, the former reality TV star revealed they are expecting baby number three — another little girl, according to E! Online. In a pair of Instagram posts featuring Max and Ace holding balloons that revealed the sex of their sibling-on-the-way, Simpson wrote, "SURPRISE... This little baby girl will make us a family of five. We couldn't be happier to announce this precious blessing of life."
As Simpson and Johnson prepare to add another little one to their family, let's take a look back at some of the expecting singer's most relatable mom moments on Instagram so far. Like ...
1. She Doesn't Bother With Themed Family Halloween Costumes
In 2017, both Simpson and Johnson dressed as famous musicians Waylon Jennings and Willie Nelson. As for Max and Ace? They went as a cowboy and Belle from Beauty and the Beast. And good for them. Highly-coordinated family costumes are highly overrated anyway — plus they all look super adorable in their element.
2. When Her Daughter Gave Herself An Impromptu Haircut
Too many of us have been in this exact situation before, am I right? Two years ago, little Max decided to give herself a haircut — right before school started back up, of course. Naturally, Simpson decided to share a photo of the evidence, according to ET Online. On a bag of Max's hair, she wrote, "Maxwell found daddy's scissors 9/6/16." Although she included the hashtag #MOMMYISNOTHAPPY, I have a feeling she'll eventually look back at this day with a smile.
3. Her Kid Re-Enacting Something On TV & It Not Ending Well
In December 2016, Simpson shared what happened after her son enjoyed a holiday classic. "Ace just watched How The Grinch Stole Christmas," she wrote on Instagram. "He then proceeded to walk up to his tree and yelled 'I hate Christmas' and tossed it." LOL. Between three kids and the cats, the photo of Simpson's wrecked Christmas tree pretty much looks like our tree by the time Dec. 25 finally rolls around.
4. When She Brought Out The Big Guns For Bedtime
Desperate times call for desperate measures, my friends. And Jessica Simpson knows how to employ a sticker chart. Her bedtime sticker chart looks super helpful for reminding Ace about what needs to be done leading up to going to bed. (And stickers are always good bribing tools for little kids.) But this mom wants to know: How long did they actually use it before he went right back to throwing a fit about going to bed? I need a follow-up post!
5. Her Kids Love Trying On Mom's Shoes, Too
What is it with kids and their fascination with trying on mom and/or dad's shoes? Jessica Simpson's daughter is no exception to this "rule," as it turns out. "Shopping in mom's showroom 👠🛍," she captioned a photo of Max next to a pile of her mama's shoes while in the process of strapping one on her left foot. And who could blame her? If I had access to Simpson's shoe closet, I'd be trying them on all day too.
6. When The Never-Ending Cycle Of Mom Life Has You Exhausted
"I'm. So. Busy," Simpson captioned a post of herself looking exhausted while sporting a messy top-knot and a face mask. As a work-from-home mom of three kids — and a fourth on the way — these are pretty much my exact thoughts every single day. I feel you, mama.
7. The Giant Pile Of Baby Dolls
Whether it's a ridiculous amount of stuffed animals, toy cars — or in my case "My Little Pony" figurines — what parent hasn't suddenly realized their kid's toy obsession has gotten a little out of control? Simpson's caption of her daughter's heaping pile of baby dolls is just icing on the cake. "When your daughter has more friends than you …" she wrote. LOL. Same.
To me, it's fascinating to see that despite their fame and fortune, many stars deal with the same day-to-day parenting struggles that I do. Sure, my face isn't in the tabloids and I don't have millions dollars or online followers to my name. But it turns out I have a lot more in common with Jessica Simpson than I originally thought. And I can't wait to keep up with her mom moments from here on out.