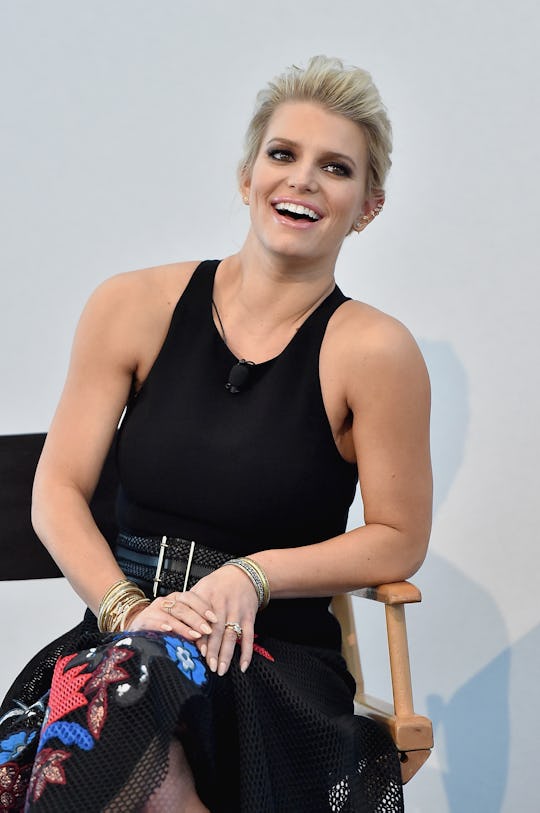 Mike Coppola/Getty Images Entertainment/Getty Images
Jessica Simpson's Solution For Her Swollen Feet During Pregnancy Is Beyond Genius (& Cheap!)
Jessica Simpson announced that she's pregnant with a baby girl in September, a reveal that surprised and delighted many fans. And now that the cat is out of the bag, Simpson has taken to social media to share various updates about her pregnancy, including her swollen feet. Although this pregnancy symptom can be brutal, Jessica Simpson has the perfect hack for swollen feet. Not only is it affordable, but it's also incredibly convenient.
Simpson told Ellen DeGeneres in May 2017 that she wasn't too interested in adding another kid to her brood of two. "I'm not pregnant," Simpson said about pregnancy rumors surrounding her at the time, according to ABC News. "We got an IUD. Nothing's gonna get in that uterus."
When pressed about the decision, Simpson added: "I have two beautiful children and I'm not having a third. They're too cute ... you can't top that."
Well, it looks like Simpson and her husband, Eric Johnson, had a change of heart because something did get in "that uterus" — a little girl.
"This little baby girl will make us a family of five," Simpson said in her pregnancy announcement on Instagram. "We couldn't be happier to announce this precious blessing of life."
Although there's no denying Simpson is thrilled about her "blessing," there's a good chance she isn't psyched about some of her pregnancy symptoms. Want some proof? Look no further than Simpson's Instagram Story about her swollen feet.
"When you're pregnant and have to ice your swollen feet before the flight...," she captioned a shot of her foot underneath a frozen bag of Ore-Ida ABC shaped mashed potatoes. Way to keep it real, mama.
Of course, there's a lot of things to love about this photo. For starters, I'm kind of obsessed that Simpson feeds her kids frozen mashed potatoes from a regular old brand.
Then there's the fact that Simpson's hack is simple. I can't imagine anything more convenient than walking over to your freezer and pulling out some frozen food to ice your feet with.
Finally, Simpson's hack is all too real. No matter how you might feel about Simpson, it's hard to deny that she keeps it honest 24/7.
Despite the swollen feet, Simpson is enjoying her pregnancy to the fullest. She told Footwear News on Tuesday:
My most important project is always though being a mom and a wife. My kids are 5 and 6 now, and being their mom and Eric [Johnson's] wife are the best parts of my life. And my most current project, of course, is growing the baby in my belly. We can't wait to meet her.
Simpson's two kids Maxwell, 6, and Ace, 5, are also reportedly excited about the new addition.
"Around Christmas last year she confided in close friends that both of her kids wanted a little sister or brother," a source supposedly close to Simpson told Entertainment Tonight. "She laughed about them putting the pressure on. Jessica also admitted she missed having a little baby and wanted to have more."
Aww. How cute.
Here's to hoping Simpson won't have to pull out the ABC mashed potatoes too often throughout her pregnancy — girl deserves a rest. Either way, it's exciting that Simpson and her adorable family will have a new baby to dote on soon.