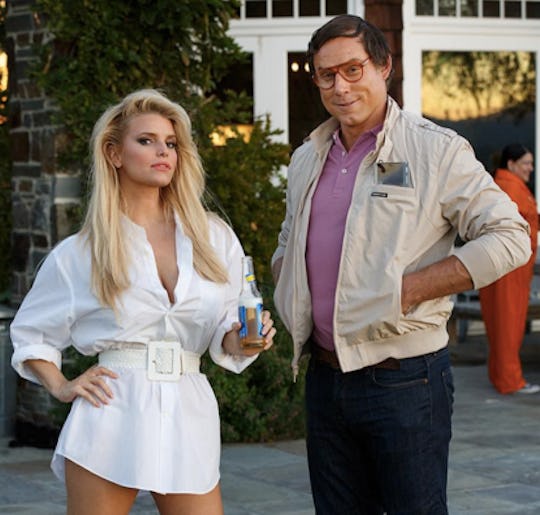 Jessica Simpson's 'National Lampoons'-Themed Halloween Costume Was On Point, But She's Not The Only Celeb Who Won Halloween This Year
Even if you only glanced at Twitter or Instagram this weekend, it was pretty hard to miss what seemed like every celeb — and even some of their kids — decked out in some stellar Halloween costumes. And by the looks of things, they sure did the Halloweekend right. One celeb who definitely didn't disappoint? Jessica Simpson, whose National Lampoons'-themed costume was seriously on point: She was an awesomely 80's Christie Brinkley, while her husband, Eric Johnson, was Chevy Chase's Clark Griswold. 
With beer in hand (because, Halloween), Simpson posted a photo to Instagram wearing Brinkley's signature white ensemble from the popular flick, and donning flawless side-swept hair. And just when you thought it wouldn't get any better, her footballer husband Eric Johnson's Clark Griswold was perhaps even more hilarious, with his trademark glasses, khaki jacket, and... well, that hilarious grin of his.
And fortunately for us, Jess and Eric weren't the only celebs that who gave it their all this weekend. Check out four other celebs who took Halloween to a whole new level this year:
Neil Patrick Harris & His Fam Brought The Force
NPH's fam is pretty much known at this point for their imaginative costumes, Neil Patrick Harris was at it once again, dressing as Obi-Wan Kenobi and his husband David Burtka taking on Han Solo. So, what did their kids, Harper Grace and Gideon Scott dress up as? Princess Leia and Luke Skywalker, of course. 
2. Taylor Swift & Indina Menzel Teamed Up On Stage For A Perfectly Frozen Duet
That's right — Tay closed out the U.S. leg of her 1989 tour in one of the coolest ways possible: By putting on an Olaf costume and singing "Let It Go" with the Indina Menzel, who was also dressed up as Frozen favorite Princess Elsa. Needless to say, the entire stadium freaked.
3. Heidi Klum Killed It As Jessica Rabbit 
It's no secret Heidi Klum does Halloween up big time. The Project Runway star has a massive Halloween bash every year, and always turns out in an awesome costume. This year was no exception: Klum took to Instagram to reveal her latest transformation into Jessica Rabbit from Who Framed Roger Rabbit?, and as usual, it was a total hit with fans.
4. Kim Kardashian Came As Herself & It Was Hilarious
We all remember that carpet-looking dress Kim K. wore at the 2013 Met Gala. on the red carpet during her last pregnancy in 2013. Well guys, it's back. Or at least, it was for one glorious night. Kardashian rocked it again at a Halloween party this year, and got more than a few laughs.
Can't wait to see what our favorite celebs deliver again next Halloween. See you Oct. 31, 2016.