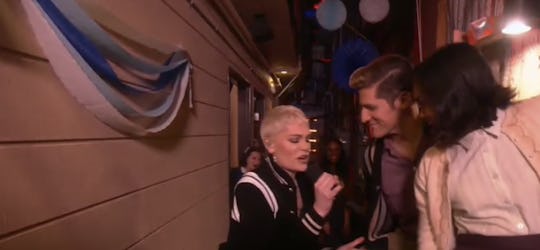 FOX
Jessie J Looked Like Pink In The 'Grease: Live!' Opening & Twitter Is Freaking Out
Grease: Live! was only seconds in when it threw viewers their first surprise. As the chords to the musical's first number began, fans started wondering if Pink was making her acting debut in Grease: Live!. As the crooner made her way through the changing cast and different sets, fans realized they weren't listening to '90s badass but rather modern-day badass, Jessie J, singing "Grease Is The Word."
So why was the Internet so confused? It must have been the 'do. Jessie J has rocked myriad hairstyles, including a blonde buzz cut in November, according to Hollywood Life. It's grown since then, turning into a very Pink-esque pixie cut. The "Perfect" singer has perfected the short haircut, crop top, and jacket combo since the early 2000s, which made Grease: Live! a flashback in more ways than one.
The singer behind "Bang Bang" and other notable Billboard tunes proved she could hold her own against the Pink Ladies, T-Birds, and other cliques at Rydell High. In addition to belting a tune while moving through a sea of ever-changing sets, she ended up outside the studio to greet her adoring fans, prompting one fans to tweet that, "Jessie J just did half a marathon and didn't even break a sweat." Respect, girl!
Take a look for yourself: