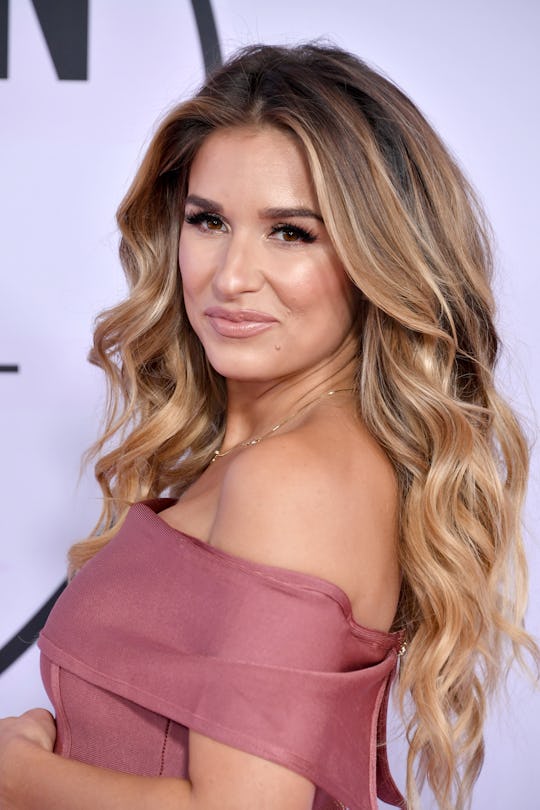 Neilson Barnard/Getty Images Entertainment/Getty Images
Jessie James Decker Totally Broke Down Over Leaving Her Kids For Work
Parents who work outside of the home have probably felt it at some point in time: Feelings of sadness and/or guilt upon leaving your child. Even if you love your job and typically enjoy the break from your kids. Even if you know he's well-cared for and has fun at daycare. Even if it's just for a few hours. Sometimes — and for inexplicable reasons — these feelings bubble over out of nowhere, and you need to have a good cry. That's why Jessie James Decker getting emotional about leaving her kids for work is so relatable.
On Monday, Oct. 1, James Decker shared via her Instagram Story a vulnerable moment plenty of parents have found themselves in before. "So I just dropped the kids off at school and I'm a little emotional because I have to be gone off and on for the next two weeks," Jessie said in the video, according to E! Online. "I'm so excited about all the great things I'm getting to do but it's just hard." The 30-year-old mom of three added: "There are times when I'll fly in and out — same day — and I still will cry before I take off. Or a few days [before], which is what I'm doing. You never not cry as a mom when you leave your kids."
If you've lost track of the country music singer's personal life (because children and your own hectic life), Decker has three young children with her football player husband, Eric Decker: Vivianne, 4, Eric Jr., 2, and baby Forrest, who was born in March, according to People. As a mom who has breastfed three children so far, I can imagine leaving her 7-month-old nursling had to be the hardest. My kids, at least, mostly refused bottles of expressed breastmilk. And the logistics of pumping while working and traveling? Definitely no fun.
For the record, Monday's video isn't the first time James Decker has gotten refreshingly real with her Instagram followers. Just four months after welcoming her third child, she got honest about the struggle that is trying to squeeze in a workout around caring for an infant. While breastfeeding her little guy, James Decker explained that Forrest had awakened from his nap and started crying — a whopping 10 minutes into her workout. (Ugh, been there, mama.) However, every little bit counts, and she was happy to get that 10 minutes in, regardless. "I will admit this has been the most challenging to see any progress this time around. Baby Number three is no joke when it comes to your body and all the changes!" she captioned the July video, according to Us Weekly. "I'm definitely used to seeing things progress a lot faster but I'm trying to be patient. Trying to stay active and trying to eat healthy as much as I can!!" Decker continued:
I'm not one of those women that drops weight from breast-feeding I'm one of those women that holds onto every little ounce of weight that I have to continue to make milk for my baby. So in the end all that matters is he's healthy and eating well but I'm not going to lie obviously I would love to see some changes physically so I can fit back into my old clothes but I have to remind myself I'm only four months post and we have to be patient with ourselves and just do all that you can't to feel healthy and good in your own skin!! #mommyworkoutdiary #15lbstogo
As far as her recent post about crying when she leaves her kids is concerned, I can relate to Jessie James Decker — to a certain extent. When I worked outside of the home and my older two were little, I dreaded leaving them with a babysitter/at daycare every single morning. (It didn't help, either, that I didn't particularly love my job, and really wanted to stay at home with them.) As they've gotten older — and I've started working from home — these feelings are now few and far in between. These days, I'm more than happy to see them off to school so I can enjoy a couple of hours at the gym in solitude, be productive with my work, and spend time with my youngest before baby number four is born this winter. (That doesn't make me a bad mom, right?)
But seriously, though. If you don't already keep up with her on Instagram, follow Jessie James Decker ASAP. Because I'm sure we could all use a little more parenting realness in our lives.