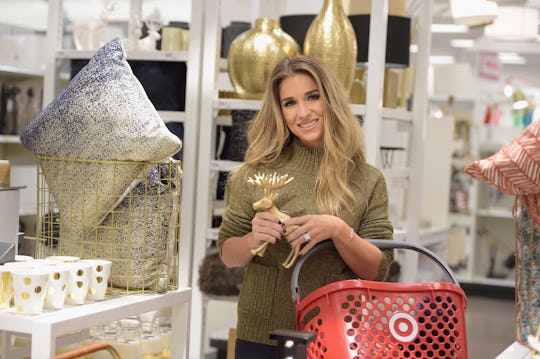 Jason Kempin/Getty Images Entertainment/Getty Images
Jesse James Decker Announces Pregnancy In Precious Twitter Announcement
Looks like it's baby number three for the star of Eric & Jessie: Jessie James Decker is pregnant, and her video announcement on Twitter sharing the news with her two children is basically just the sweetest damn thing I've ever seen. It looks like Vivianne, Decker's 3-year-old daughter, is totally tickled that she's going to get to be a big sister two times over. Decker asks her oldest child what she's been praying for, to which Vivianne replies, "For a baby." That's when Decker drops the fantastic news: "For a baby? Well guess what? There's a baby in mommy's tummy!"
At first, her 3-year-old seems like she can't believe it — but after Decker reassures her daughter there's a "baby in her tummy right now," the little girl claps her hands with a huge, happy smile. Meanwhile, little brother Eric Jr. seems totally chill about the big news, nonchalantly drinking from a big clear plastic mug like it's NBD he's about to become a big brother for the first time. Decker's husband Eric tells his daughter that she's going to have a little brother or a little sister — and the whole video is just really, really sweet.
The 29-year-old country singer has starred with her husband and NLF player Eric Decker, in the E! reality show, Eric & Jessie, since 2013. The reality show has followed their journey together as newlyweds and then first-time parents, with the birth of their daughter Vivianne Rose in March 2014. A little over a year later, their second child, Eric Thomas Jr. was born in September 2015. That the couple has a third child on the way should come as no surprise to fans, as Decker has been more than candid about wanting to grow her family.
In July, Decker opened up to E! News about her hopes for baby number three. "I'm not planning on it, but he could do what he wants and get me knocked up again so we'll see what happens. We're going to take it easy for a little bit, but you never know. Something could happen," Decker speculated at the time. Then in August, Decker told People that she did "see more kids in the future," adding, "We're not doing anything not to have more kids. We're just leaving it up in the air and leaving it in God's hands."
It appears from Decker's video that Vivianne is more than ready to be a big sister again.
It's Decker's carefree attitude about growing her family that makes her pregnancy announcement all the more sweet, especially for her oldest daughter. It truly does come as a surprise, and Vivianne's reaction is priceless. Although, to be honest, Eric Jr.'s complete obliviousness to the situation is equally as adorable. The Deckers — and social media — are lucky to have caught their kids' reactions to her pregnancy announcement on video.
On Instagram, Decker added, "As you can see Viv is so happy and Bub doesn't quite know what's going on but we are over the moon." Decker is about three months pregnant, noting on Instagram that their family "can't wait to meet this little one end of March."
What exciting news for the Decker family, and fans can bet that Decker's uber popular Instagram account will soon be filled with bump photos and other cute pregnancy goodness — and hopefully fans of Eric & Jessie will get to see arrival of Baby Decker number three during this season. With their third child due next spring, big sister "Vivi" and soon-to-be big brother "Bubs" have plenty of time to start practicing their tag team older sibling act. Congrats to the whole family.