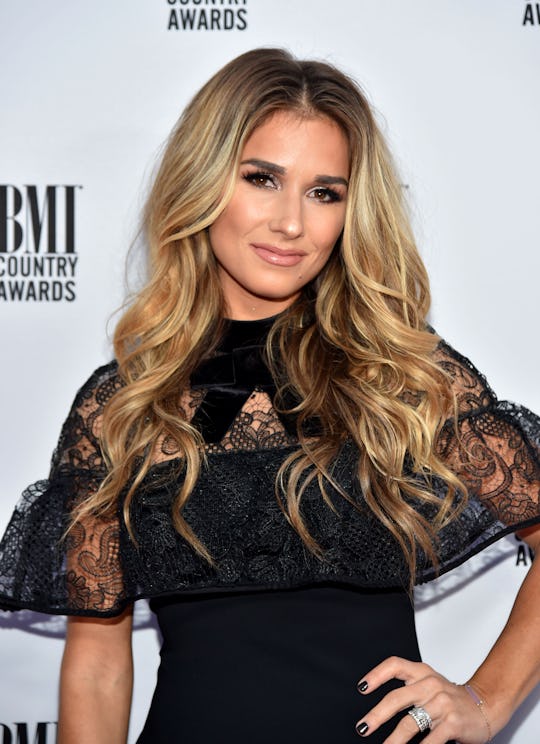 Michael Loccisano/Getty Images Entertainment/Getty Images
Jessie James Decker's Post-Baby Photo Is Awesome
As a celebrity, there's so much pressure to look good all of the time, even after having a baby. This is especially true when you've been labeled a sex symbol, as country singer Jessie James Decker has been. But rather than caving into the pressure to shed her pregnancy pounds two minutes after giving birth, James Decker has been honest about not only how her body has changed since becoming a mom — and we love her for that. Jessie James Decker shared a postpartum bikini selfie, and it's helping moms everywhere who feel pressure to lose the weight that they may have gained during pregnancy.
In a picture posted to Instagram, James Decker is in a swimsuit, and she captioned the pic #loosemommyskin. Immediately, fans showed their support for James Decker:
"Do you know how many celebs would have photoshopped the "loosemommyskin"?? That's what I love about you!," one person commented. Another fan thanked James Decker for making her feel better about not being able to lose the last 10 pounds of her pregnancy weight.
James Decker has two children with her husband New York Jets wide receiver Eric Decker: Vivianne, 2, and Eric, 16 months. The singer and star of her own reality show, Eric & Jessie: Game On, has opened up in the past about the fact that she never lost all of the weight from her first baby — she's 15 pounds heavier than before becoming pregnant with daughter Vivianne — and has scars from two C-sections.
James Decker's post-baby body, as well as her honesty about it, are refreshing compared to celebrities who have snapped back in unrealistically quick amounts of time. Seeing Chrissy Teigen's flat stomach in a sheer top just days after having her daughter Luna, or Olivia Wilde look red carpet ready less than two weeks after giving birth sets impossible standards for new moms everywhere. Celebrities who quickly snap back into their pre-baby bodies after giving birth set an example that puts pressure on women everywhere. There's nothing wrong with the fact that their bodies "bounced back" to what they were before the pregnancy — the problem exists when "bounce back" is something we expect of all women or is something that's "the ideal."
In an interview with Momtastic, she said that after she posted a photo where she looked thinner than she actually was, she could see the pressure new moms are under to lose weight.
I saw that girls were commenting, 'OMG, I just had a baby and she's already skinnier than me' and I hated that women were feeling that way. I didn't want anybody comparing themselves to that picture, because I felt that it was misleading and I didn't want to mislead anybody.
Just last week, she posted a video of herself modeling new swimsuits for her Kittenish clothing line to Instagram, where a tiny belly pooch is visible.
Some women's bodies never go back to what they were before pregnancy. And that's perfectly normal. The average woman retains five pounds after each baby, while a quarter of women retain 11 pounds or more, according to Live Science.
Another thing that's setting a great example is James Decker doesn't seem to be worried about whether she'll ever lose that last 15 pounds. That's amazing when the media makes it seem as though every woman needs to be on a diet at all times.
Instead of dwelling on her insecurities, she focuses on staying confident, she told Cosmopolitan. "If you walk into the room, and you're smiling and have a pep in your step, people are going to be drawn to you," James Decker said.
Well, who wouldn't be drawn to someone this fun?:
It's not surprising James Decker has been so open about the changes to her body: she once admitted that being made into a sex symbol early on in her career made her uncomfortable.
"I had a real hard time with female fans," she told Rolling Stone. "Girls didn't like me, and that killed me because I've always wanted to be a role model for...girls."
Now, she's finally getting the chance.