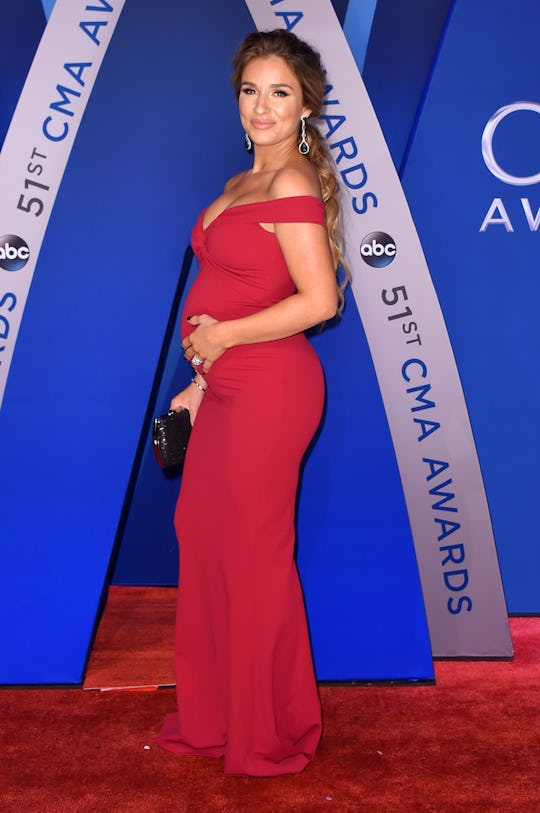 Michael Loccisano/Getty Images Entertainment/Getty Images
Jessie James Decker's 3-Week Postpartum Photo Is Getting *So* Much Love From Moms Right Now
Given societal pressures and living in a culture obsessed with thinness, it's no secret that getting back to a pre-baby body can feel, let's face it, impossible and stressful. And, oftentimes, celebrities don't do much to help with that pressure. But it's always so refreshing to see celeb moms who give a more realistic take on it all, like country singer Jesse James Decker, who shared an honest postpartum photo about three weeks after giving birth to her third child. And, in just hours after posting it, it's getting so much love from fellow moms for helping them feel less stress about "bouncing back."
Decker took to her Instagram on Thursday to share a selfie shot of her postpartum belly, with the same positivity and body confidence she showed throughout her pregnancy. "Keeping it real! 3 weeks post and I'm still very swollen," she captioned the photo, adding that her third pregnancy has been the most difficult to rebound from. "The 3rd has been by far the hardest recovery, but I'm feeling stronger every day," she wrote.
She also celebrated the wonder that pregnancy is. "Remember what our bodies just when [sic] through for 9 months and be proud," she wrote, encouraging women to just enjoy this time with their new baby. (And to drink plenty of coffee to make it through those long, new-baby nights.)
The post is receiving all kinds of positive support, with women saying it's inspiring and exciting to see a women, and a celebrity no less, be so vulnerable and honest.
"Thank you for posting this and keeping it real. You are providing inspiration, support and self confidence for so many women" one fan wrote. Another commented, "Thank you for being so honest about what post partum looks like! I have found myself constantly comparing myself to a false reality. You look beautiful!"
Overall, Decker's post is helping a lot of women feel validated in their postpartum journeys. One women commented on her photo: "You have no idea how much I needed to see this today. We're 2 months post baby and I've been seriously tearing myself apart every time I look in the mirror knowing I'm going to have to be in bikinis in a couple months around no one else that has kids ha! Thank you for being confident and showing us what real life post baby bodies look like."
Decker has always been real about the changes to her body over last nine months and has shown no fear about expressing the pride and joy she feels from pregnancy and motherhood. Recently she posted a photo of herself in a bikini and sunglasses from her DIFF eyewear line. "My boobs don't look like that anymore," she included in the caption.
In the video for her song "Flip My Hair", filmed when Decker was six months pregnant, according to People, she proudly showed off her pregnancy bump in a black leotard, dancing with a group of equally pregnant women. While many people applauded her creativity and pride, some commenters expressed their apparent discomfort at watching pregnant women dance, according to People.
But other people in the comments section were quick to clap back at the haters. "Causing so much controversy because she and a few other women are pregnant. Glad shes done this. Makes a good point. Ppl saying they feel uncomfortable watching it, dont get it, confused. *rolls eyes*," one person wrote. "She pregnant shes dancing and doing her job. Good for u Jessie. Make this the norm for us females to see!"
"I absolutely love this song, the video but i feel like being pregnant is the cherry on top. It's like saying 'Watch me succeed and watch me do it while growing a baby,'" another commented.
Decker will surely let fans know all about how she's doing in the coming weeks. In 2015, for instance, she spoke to E! News about her recovery after the C-section birth of her son, Eric. "I started going to the gym. I got a trainer … But I'm not pushing myself too much. Just trying to get back into the swing of things, getting back in shape for touring and stuff." Her followers will, hopefully, be treated to many more up close and personal photos of her postpartum journey this time around and, hopefully, some adorable moments with her new baby.
Check out Romper's new video series, Bearing The Motherload, where disagreeing parents from different sides of an issue sit down with a mediator and talk about how to support (and not judge) each other's parenting perspectives. New episodes air Mondays on Facebook.