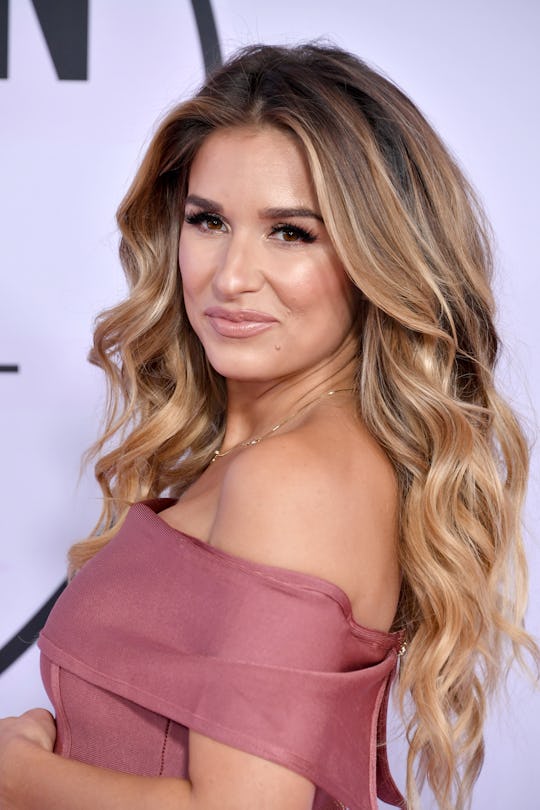 Neilson Barnard/Getty Images Entertainment/Getty Images
Jessie James Decker's Video About Working Out After Baby #3 Is A Real Mom Struggle
In this day and age of promoting body positivity among women, there's still an enormous amount of pressure put on new moms to whip their post-baby bodies back into shape ASAP. Especially if it isn't your first baby, getting back into an exercise routine can be disheartening because those stubborn, extra pounds don't want to budge. (Not to mention, there's waiting on the healing process and then logistically making time to workout while caring for a baby.) And celebrities are no exception to this dilemma. In fact, Jessie James Decker's new Instagram video about exercising while caring for baby number 3 is a struggle moms know all too well.
In case you haven't kept up with the singer's personal life, Decker gave birth to her third child on March 31 — a baby boy named Forrest, People reported. James Decker and her her football player husband, Eric Decker, are also parents to a 4-year-old daughter, Vivianne "Vivi" Rose, and a 2-year-old son, Eric "Bubby" Thomas Jr. Four months after welcoming baby number three, James Decker took to Instagram to get honest with followers about the realities of fitting in workouts while caring for a baby. (Spoiler alert: It can seem impossible AF at times.) Just 10 minutes into her recent workout, James Decker was interrupted by her youngest child's cries. Because of course.
"I will admit this is been the most challenging to see any progress this time around. Baby Number three is no joke when it comes to your body and all the changes!" she captioned a video of herself nursing baby Forrest on Monday, according to Us Weekly. "I'm definitely used to seeing things progress a lot faster but I'm trying to be patient. Trying to stay active and trying to eat healthy as much as I can!!" Decker continued:
I'm not one of those women that drops weight from breast-feeding I'm one of those women that holds onto every little ounce of weight that I have to continue to make milk for my baby. So in the end all that matters is he's healthy and eating well but I'm not going to lie obviously I would love to see some changes physically so I can fit back into my old clothes but I have to remind myself I'm only four months post and we have to be patient with ourselves and just do all that you can't to feel healthy and good in your own skin!! #mommyworkoutdiary #15lbstogo
Amen, sister! (And just for the record, you won't regret following James Decker on Instagram. She posts a ton of relatable parenting photos/content on a regular basis. Do it!)
A couple of months after each of my three babies were born — after my six-week postpartum checkup, during which my OBGYN gave me the go ahead — I remember dropping the older kiddos off in my fitness center's babysitting room and then taking the baby to the indoor track. I would park the stroller, and attempt to squeeze in a run. However, more often then not — especially with my youngest — the baby would get cranky and want held/fed just 5 or 10 minutes into my workout. It was frustrating AF. And yet, I persisted. Because honestly, getting out of the house for those mini workout sessions helped keep me sane. Plus, like Jessie James Decker pointed out, every little bit helps.
Yes, trying to get back into shape after having a baby can seem impossible. And some days, it's probably smart to wave that white flag and try again some other time. But don't lose hope, mamas. You've totally got this.