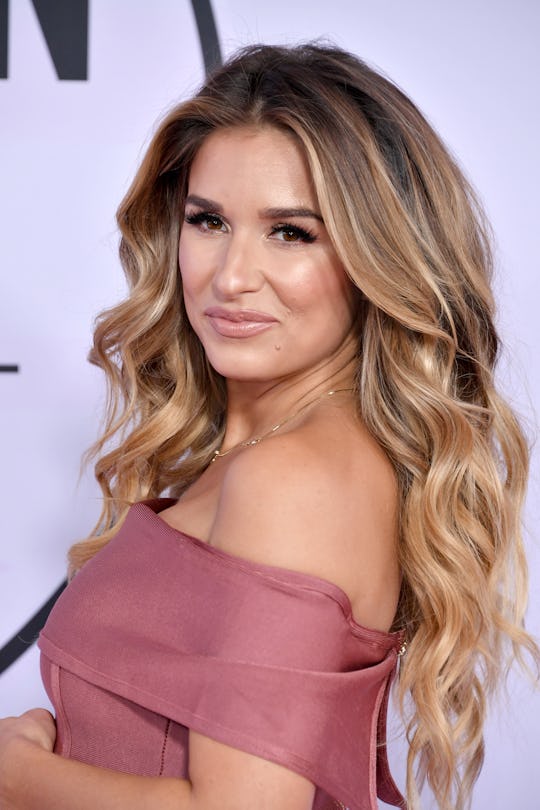 Neilson Barnard/Getty Images Entertainment/Getty Images
Jessie James Decker Asked New Moms For Tips To Help With This Postpartum Struggle
New mom and reality TV star Jessie James Decker has posted a gazillion photos of herself over time, and while I'm sure she's not trying to show off in them, one thing that's always particularly noticeable, and enviable, are her long, luxurious locks. The mom of three is often relatable, but certainly more so these days. With baby Forrest now 2 months old, Decker has shared that she is experiencing one particular not-so-fun postpartum side effect. On Sunday, Decker shared a post about losing her hair after recently giving birth and all fellow new moms will resonate with this struggle.
"Any other mamas losing their hair like me right now?" she posted on Instagram over the weekend. "I really thought this time it wouldn't go because it held off for so long. It did with Viv and bub right after," she wrote in reference to her other children, 4-year-old Vivianne and 2-year-old Eric "... Maybe there are some good vitamins I could take for that?"
Hey, I hear you, Jessie. Because every pregnancy, and recovery from it, is different, I think a lot of moms are understandably surprised when things don't follow the same pattern with each baby. Not having experienced much hair shedding with my older kids, I was so not prepared for the massive clumps of brunette tresses that said buh-bye to my head after my third baby.
The hair thing was downright alarming, but my doctor said it was all perfectly nornal, as confirmed by the American Academy of Dermatology, and that the hair follicles would ultimately regenerate. Yup, just another fun part of having a baby.
Meanwhile, Decker got tons of feedback from other moms on her post who've been there. Fans posted recommendation for products ranging from flaxseed, to black seed oil, fish oil and iron. "Happened to me with my first - i thought I missed the hair falling out boy because it never happened... Until it did," confided one fan." "And I'm losing my hair too. Daughter is 2.5 months," another chimed in. "Biotin and collagen," offered a third fan.
While it's certainly alarming, keep in mind that even if you do nothing, this post-pregnancy hair loss is temporary, due to hormonal fluctuations in your body, and will not create bald spots or permanently thinning hair, according to the American Pregnancy Association. The technical name for this mid-shower, shampoo-in-your-hand freakout is Telogen Effluvium, or excessive shedding of hair that occurs one to five months following pregnancy, according to Allure, which noted that between 40 to 50 percent of women experience this.
Decker — whose reality show with football-player hubby Eric, Eric & Jessie: Game On ran four seasons on E! — seems determined to share herself and her family with the world in a "real" way, having posted everything from stomach-baring pics showing her post-birth "loose mommy skin" to a recent pic showing her breastfeeding and sipping a drink that appeared to be wine, which naturally caused a flurry of comments until the expert herself, actress/neuroscientist Mayim Bialik, weighed in on the topic. Bialik wrote in a post on Facebook:
Since it is World Breastfeeding Month, I think we should address this photo. Alcohol that you drink while breast-feeding does NOT go directly into your breast milk. It takes some time for it to be excreted in your breast milk. If you feel tipsy, your milk is tipsy and while it is perfectly OK to drink a small amount of alcohol, generally speaking, do not plan on drinking a lot while breast-feeding! You can drink in between feedings or you can pump.
Bialik's note of caution about alcohol and breastfeeding is also supported by parenting website, MamaNatural, as well as People. "Current research says that one to two drinks, occasionally, is not harmful for a nursing baby," Elizabeth Sjoblom, an international board certified lactation consultant for Lactation Partners, told People. "The general rule of thumb is if you feel fine, you are fine to feed your baby." Decker no doubt knows that while one glass of wine won't hurt the baby, this is overall a gray area in which nursing moms are urged to talk to their doctor.
It's admirable that Decker is willing to share so much of her personal journey through motherhood — especially knowing that people will weigh in with all sorts of opinions. She seems determined to be brave and honest in documenting the joy, and exhaustion, of new motherhood.
And FYI, Jessie, my third baby is 6 now, and my hair is totally back to normal. So just in hang in there, you hair will be beyond gorgeous and full again before you know it.