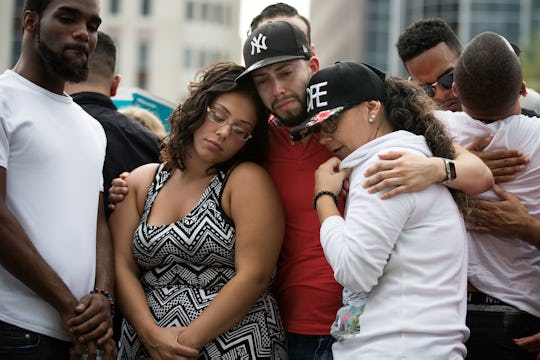 Drew Angerer/Getty Images News/Getty Images
JetBlue Offers Free Flights For Orlando Shooting Victims' Families In A Heartwarming Move
Families and loved ones of the victims who were killed or injured in the worst mass shooting in American history will be traveling to Orlando as quickly as they can over the coming days — and now they'll be doing it free of charge. JetBlue is offering shooting victims' families free flights to and from Orlando, hoping to lend support and make things a bit more bearable to handle during this tremendously heartbreaking time, if nothing else. The massacre at a popular LGBT nightclub — condemned as an act of hate and terrorism — claimed the lives of 49 people and injured 53 more.
"Our hearts are with the victims, their families and friends and the Orlando community," the company said in a blog post on Monday. "Like many of you, we continue to watch reports of the Orlando nightclub shooting with great sadness. We want to do our part to help the victims of this tragedy, as well as support the Orlando community through this difficult time."
JetBlue says it will provide free seats on its available flights to and from Orlando for immediate family members and domestic partners of victims who were killed or injured. The company is also waiving ticket-change fees for customers who want to make last-minute changes to current travel plans to or from Orlando.
Additionally, JetBlue plans to make a charitable contribution to support the victims and their families.
The airline hasn't announced yet how long the free travel will last as many funeral arrangements still need to be made.
Not long after the company announced the plans for free travel, many took to Twitter to praise JetBlue for the supportive move:
President Barack Obama addressed the tragic shooting on Sunday, which he described as an example of "homegrown extremism."
Obama said:
"Our hearts go out to the families of those who have been killed. Our prayers go to those who have been wounded. This is a devastating attack on all Americans. It is one that is particularly painful for the people of Orlando, but I think we all recognize that this could have happened anywhere in this country. And we feel enormous solidarity and grief on behalf of the families that have been affected."
In the wake of massacre, JetBlue's free travel offer will make it possible to alleviate one source of worry and stress as families begin their grieving. Last minute travel never goes as smoothly as you'd hope. It can be both financially and emotionally draining in itself. Extending this support to the victims' families is a wonderful message that as a nation we will continue unite and grow with love.