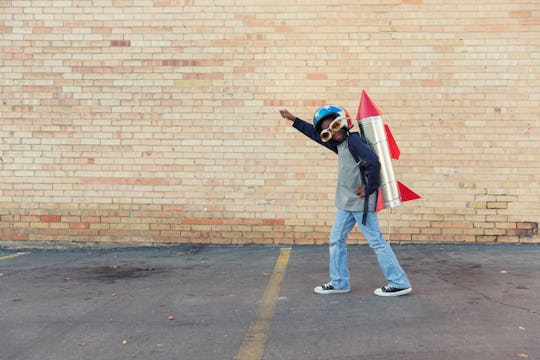 Jif® Is Helping Kids Make The World A Better Place, And We're So On Board With It
In today's society, taking steps to make the world a better place can feel more daunting than ever. There are too many people who need help, too many problems to fix, and not enough who are willing to lend a hand.
But recently, we're finding hope for a better future in an unexpected source: children. There's something truly special about their innocent perspective, their unrelenting desire to help, and the kind of creative problem-solving that only kids are capable of.
That's why we're thrilled to partner with Jif® to spread the word about their "Imagine If, with Jif®" contest. What's the "Imagine If, with Jif®" contest, you ask? In their own words, it's a contest "dedicated to supporting kids' entrepreneurial and creative ideas by providing grants to families [...all] for the opportunity to spread more love into the world."
Um, sign us (and our kids) up, please!
And Jif® isn't doing it alone: The Company is joining forces with the Boys & Girls Clubs of America AND our fave actress slash supermom, Hilary Duff, to get the word out about this awesome campaign. This unstoppable trio has come together to accomplish their goal of making the world a better place, one kid-generated idea at a time.
Here's how it works: Through October 1, 2018, you can head over to jif.com/imagine-if to submit your kids' best (and let's be real — cutest) entrepreneurial idea. The one requirement? It has to be something that helps make the world a better place. Who wouldn't want to be part of a movement like that?
Finalists will be chosen based on creativity, originality, project feasibility, and alignment with the Jif®'s mission to empower families to help make the world a better place.
So what if you and your family miss the deadline, or would rather participate in another way? Good news! You can still be part of the very special selection process — voting will be open to the general public from October 16-29, and the grand prize winner will be announced in November.
We don't know about you, but reading up on the finalists with our kids sounds like a meaningful (not to mention fun) learning experience.
The grand prize will be $15,000 from Jif® to be used toward turning the winning family's entrepreneurial idea into a reality.
See official rules for complete details here, and in the meantime, get ready to be seriously inspired by last year's winner: Charlotte Gould, an eight-year-old who created nonprofit, "Stiches by Charlotte," which provides comfort and cheer to children in the hospital with a line of personalized dolls.
How wonderful is that?
So gather up your kids and do a little brainstorming about their entrepreneurial ideas for a better world — you might be surprised with the amazing ideas they come up with.
For more information about Jif®, the "Imagine If, with Jif®" contest and Jif® products and recipes, visit jif.com/imagine-if and the Jif® Facebook, Twitter and Instagram social media channels.
To learn more about Boys & Girls Clubs of America, visit www.bgca.org.