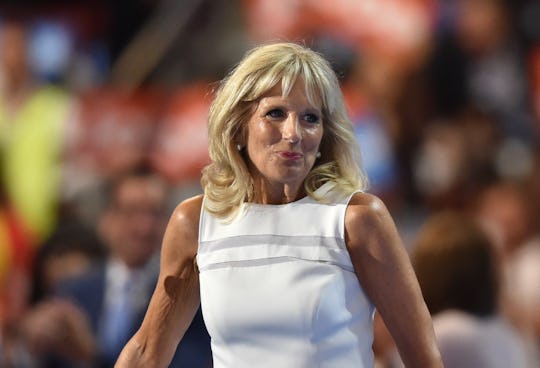 NICHOLAS KAMM/AFP/Getty Images
Jill Biden Perfectly Describes What's Happening To America Right Now
Elections aren't always about politics. Sometimes, they are about feeling all the feels. On Tuesday, Jill Biden perfectly described the election in one single tweet and summed up everything that is happening to America right now. She's sort of amazing, actually. Americans rarely hear from her but she wrote on Twitter Tuesday night, "There are no winners. Half the country has openly voted for the oppression of LGBT's, minorities', and women's rights." Which is true, since half of the country voted for Republican nominee Donald Trump.
Trump has said that he thinks Mexicans are all rapists and drug dealers, he has bragged about kissing women without their consent, and said that he would block Muslims from entering the country. On Tuesday, Trump might have won the election to be president of the United States.
Jill Biden is right, there are no real winners.
Biden tweeted her message mid-way through election night, just as it became clear that Democratic nominee Hillary Clinton might have more of a fight than anyone thought to win the election and started losing some important states.
Hillary Clinton is not perfect. And let's just be real, Clinton might have taken her Blackberry for granted and been careless with confidential information while serving as Secretary of State. But Clinton never stopped caring about public service. And Jill Biden knows Clinton. Jill Biden knows what's at stake. And Jill Biden saw that Clinton was losing on Tuesday night and felt the need to say something.
Jill Biden has laid low for the entire eight years her husband served as vice president, which is why it's important that she made it really clear about how she felt about the election on Tuesday. Biden is an advocate for everyone, so it makes sense that she's worried about minorities, women's rights, and everyone's rights.
Biden said to first lady Michelle Obama in an interview with People about their joint work with veterans, which they agreed upon when they first met, "I remember asking you what we would work on if we won. We immediately agreed. We wanted to do everything we could to support our military and their families."
Biden isn't about being a politician. But over the years, she's made her mark, finding her own causes to work for, and speaking out when she thinks something is wrong. If Jill Biden feels that something is worth changing, it might be worth taking to heart.