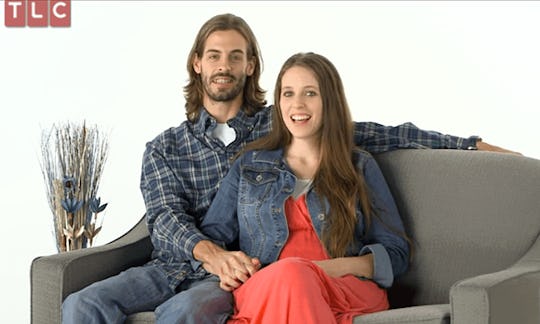 Jill Dillard/TLC
Jill Duggar & Derick Dillard Announce 2nd Pregnancy, Just In Time For The Holidays
Looks like there's going to be one more gift under the Christmas tree this time next year at the Duggar-Dillard home: Jill Duggar and Derick Dillard announced their second pregnancy, according to People Magazine on Tuesday. The 25-year-old mom of one (so far) announced her second pregnancy via their blog, The Dillard Family, as an "exciting family announcement" — and it certainly is exciting that 18-month-old Israel is going to become a big brother. "Words can not describe how excited we all are that God has blessed us with another precious gift," Duggar's blog post read in part, accompanied by a video from TLC, the channel on which Duggar stars with her younger sister in their reality show, Jill And Jessa: Counting On. Duggar told People that she is due with baby No. 2 in July.
She and little sister Jessa will get to enjoy a few months of sharing their growing baby bumps together, as Jessa Duggar is also pregnant with her second child, due in February. The younger Duggar has one son, Spurgeon, who is 13 months old. Much like in their own family growing up, the Duggar children appear to prefer to have their kids spaced pretty closely together.
"We are eager for another sweet Dillard baby to join our lives, and we know Israel will be a great big brother," their announcement continued at their blog. Duggar also made it clear that her pregnancy will also feature prominently on this season of Counting On. Duggar and Dillard's courtship and wedding in 2014 received much attention on TLC's 19 Kids and Counting — their first kiss as husband and wife at their wedding was Duggar and Dillard's first kiss ever. Like her 18 siblings, Duggar was raised as an Independent Baptist, which is a pretty exclusive branch of Christianity. She and her family follow an almost all-encompassing belief in abstinence from physical intimacy before marriage.
Before their wedding in June 2014, Duggar told ABC News that "Both of us want as many kids as God will give us." The young couple has also considered adoption as another way of growing their family, in addition to having biological children of their own. Adoption has a special connection for the couple, as Derrick revealed early in the Counting On series that his own mother was adopted. "We both think it's a wonderful thing," said Dillard on the show. "We've talked about it a lot, and we're definitely considering it."