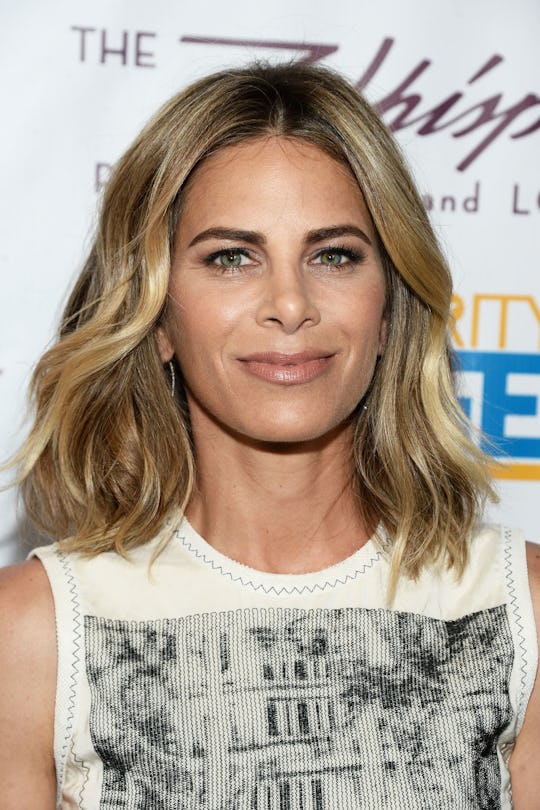 Matt Winkelmeyer/Getty Images Entertainment/Getty Images
Jillian Michaels' Son Got His Ears Pierced, & Her Reason Why Is The Best Ever
Celebrity fitness trainer Jillian Michaels doesn't just use her social media accounts to share fitness videos and motivation with her followers, she uses it to share updates about her sweet family, too. The former The Biggest Loser star recently shared a cute photo of herself and her 4-year-old son Phoenix, explaining that the slightly-blurry shot was actually a selfie taken by her little boy — and that in it, he also happened to be showing off a new accessory. Jillian Michaels' son got his ears pierced, according to Us Weekly, and the reason behind the somewhat-unconventional choice? Michaels explained that, well, he just wanted to.
In the photo's caption, Michaels wrote that after Phoenix's 6-year-old sister, Lukensia, was allowed to get her ears pierced, Phoenix asked to do the same. Realizing that there was literally no good reason to keep him from doing it, Michaels agreed, writing, "I wasn't about to say 'that's for girls.'"
The photo, which has now received 12,300 likes, attracted lots of really positive comments, with many pointing out how cute Phoenix looks with his new earring studs, and how seriously cool it is that Michaels and her partner, Heidi Rhoades, opted to ignore the outdated notion that ear piercing is just something for girls. Some even shared their own sons' desires for pierced ears too, like one user who wrote,
My four year old boy wants 'ear mops' and I was just telling him the same! You want it- I'm in. I got mine pierced at four. Why shouldn't he?
Pheonix's pierced ears is just one in a long list of reasons why Michaels' family is kind of the coolest. In an interview with The Huffington Post, Michaels and Rhoades explained that, after dating for a year, the couple took a trip to Africa, where they visited an orphanage. That visit made them realize they wanted to adopt, but they soon realized that the process of actually doing so was going to take a long time. In the meantime, Michaels explained, Rhoades got pregnant with Phoenix — and well, that's when things got kind of crazy. According to The Daily Mail, the couple essentially became an instant family of four not long after, as only two weeks after Rhoades gave birth, they adopted then-2-year-old daughter Lukensia from Haiti (talk about a crash course in parenthood!).
These days, Michaels, Rhoades, and their kids have settled into a pretty wonderful life — and, unsurprisingly, it's an active one, too. While Michaels may have made her living helping people get fit through training and exercise programs, she explained to People that, when it comes to her kids, the key is to just turn off the screens and make sure they get outside as much as possible. Michaels said,
Kids shouldn't be working out or having workout programs and we do that by limiting their screen time. They get a half hour of screen time a day and the rest of the time, they're outdoors playing. … That's how it's supposed to be for kids.
Of course, that doesn't mean that her kids don't like following in mom's fitness trainer footsteps. In a recent video on Instagram, Phoenix can be seen showing off a one-handed push-up (no big deal) while his big sis does cartwheels in the background. And in one particularly cuter-than-cute clip, Michaels posted an outtake of one of her Instagram fitness videos where she can be seen struggling to nail one of the poses. Lukenzia (who they call "Lu") quickly steps in to offer her mom some love and motivation, giving her mom's shoulder a squeeze and saying, "Mama? No, no, no, no. That's OK, try again, don't give up. Try again."
Michaels may have had an unconventional road to parenthood, but there's no doubt that it's definitely worked out in her favor. Not only is she kind of the epitome of #fitnessgoals, but the unconditional love and acceptance she has for her kids? Well that's total #momgoals as well.