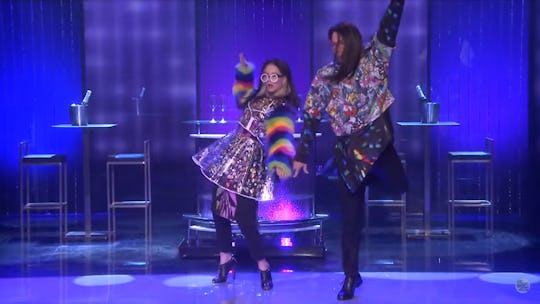 NBC
Jimmy Fallon & Jennifer Lawrence's "Come Dance With Us!" Actually Looks Like A Decent Workout
Late night TV last night featured one of the more physically grueling bits any host-guest combo has attempted in a while: on The Tonight Show, Jimmy Fallon and Jennifer Lawrence acted out Come Dance With Us, a fictional dance infomercial that, in their heads, at least, airs on QVC at 3 a.m., hosted by two rave kids named Dez and Dash. Fallon set up the performance by saying he'd heard that that Dez and Dash really resemble Lawrence and himself, and Lawrence said she'd heard the same but had yet to see the ads herself. Then Fallon and Lawrence raced back and forth between the main set and a side stage where they impersonated Dez and Dash, complete with some truly awesome outfits.
Dez and Dash seem like unlikely personal trainers, but maybe they don't see themselves that way. Dez wears high heels, for one thing, and they both seem to take it really, really, personally that the TV audience isn't coming to dance with them. Nonetheless, they persevere, demonstrating a whole list of moves that should together absolutely become the next Zumba.
It's a shame that Come Dance With Us only airs at 3 a.m. on imaginary TV, because it's actually looks like a fantastic workout. (I should know; in the summer of 2013, I did an XBox exercise game for like a week straight. OK, five days. It was hard, y'all.) Check out Dez and Dash's killer moves, and ask yourself, why don't you come dance with them?