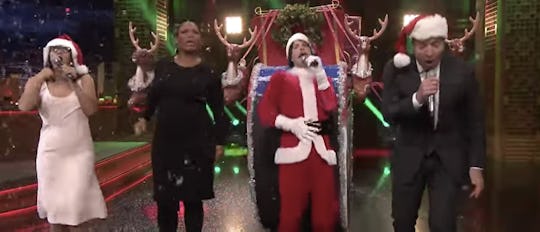 Jimmy Fallon And Rashida Jones Turn Taylor Swift & Drake Songs Into Holiday Tunes — VIDEO
You're stuffed with stuffing, and Black Friday has descended upon us, so that only means one thing: The next month is going to be as full of holiday song parodies as, well, your stomach is full of Thursday night's third helping of turkey. Not only did we get Adam Sandler's new "Chanukah" song earlier this week, but you can now watch Jimmy Fallon and Rashida Jones turn hit songs into holiday parodies.
On Thursday, the host of the The Tonight Show released his latest head-bopping sketch (right on top of his viral "Hello" with classroom toys) and though it might not be the hit that the Adele video was, it still packs quite the spirited punch. First, Jones and Fallon duet on holiday versions of some of your favorite current tunes from Drake, Bruno Mars, and, of course, Taylor Swift, then welcome two special guests: Queen Latifah (who TV viewers will be able to watch sing again on Dec. 3, during The Wiz Live!, in which she plays the titular Wiz), and the "Downtown" video's Eric Nally, whose gift to all is a Santa sleigh set-up unlike anything you'd see at the Macy's parade.
Watch the sketch below and enjoy before holiday fatigue overtakes you... in, like, a day or so?
Image: NBC