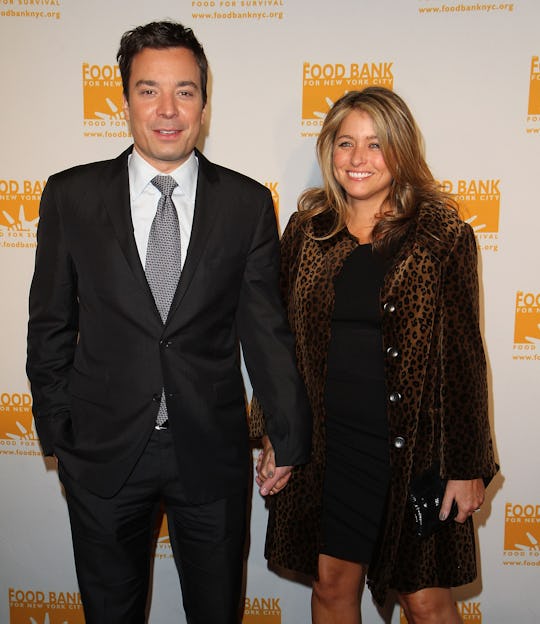 Taylor Hill/Getty Images Entertainment/Getty Images
Jimmy Fallon's Family Photo Is Super Adorable
Jimmy Fallon is one of the funniest people on television right now. His personality is magnetic, his segments are hilarious, and he always seems like he is having a great time, no matter what he is doing. Despite his ability to obtain great stories out of his guests, Jimmy Fallon's private life tends to remain private. This is why Jimmy Fallon's family photo is such a sweet glimpse into his life as a father.
While many people see Fallon on their TV five nights a week, interviewing celebrities about their projects and funny details about their lives, fans rarely see Fallon sharing that kind of side of his own. Fallon's Instagram feed is largely work related — not that that's a bad thing — but it is not often when people can see more of his own life. On Friday, Fallon finally gave people a rare look into a family vacation, sharing a photo of the family of four on his Instagram feed. In the photo, Fallon and his wife, Nancy Juvonen, are seen hitting the ski slopes with their two young, and very blonde daughters — 3-year-old Winnie and 2-year-old Frances. "There's no 'i' in Utah," Fallon captioned the photo in which the family looks happy in their sunglasses and winter gear but also really cold.
When it comes to being a dad, Fallon could not be happier. "I love it," Fallon told People in 2015. "I look forward to every single day."
And while Fallon tends to keep his family private, in the past, he has been open about his wife's struggles to get pregnant and start a family. In 2013, Fallon opened up to Today about Juvonen's struggle with fertility for over five years — but ended up serving as an inspiration for parents to keep trying. "I know people have tried much longer [than we have], but if there's anyone out there who is trying and they're just losing hope...just hang in there," Fallon said. "Try every avenue; try anything you can do, cause you'll get there. You'll end up with a family, and it's so worth it. It's the most 'worth it' thing."
The struggle ended up being worth it for Fallon and Juvonen — who welcomed Winnie in 2013 and Frances just one year later. Since then, Fallon's life has been filled with pure joy. Shortly after having Frances, Fallon shared with People just how exciting his life had become. "But everything just gets heightened when you have a baby," Fallon said. "The volume just gets turned up on life. I never knew I could be this happy, and that's the truth."
Fallon's family could not look any sweeter in this very exciting updated family photo.